The Q Awards 2006
Monday 30th October 2006 - The Grosvenor House Hotel, 90 Park Lane, London
Hosted by Jonathan Ross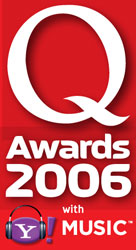 Please see below for winners highlighted in red
Nominations are announced for music's ultimate awards ceremony the Q Awards. The event, in its 17th year, returns with, undoubtedly, its strongest line up to date underlining the huge importance of this unique, non-televised ceremony.
The winners will be named on October 30th at The Grosvenor House Hotel in London and guests will include a number of the runners and riders including Kasabian, Arctic Monkeys, Oasis, Razorlight, Gnarls Barkley, U2 and Lily Allen amongst others - (full nominees list below).
This year's runaway act in terms of nominations is the Arctic Monkeys, who have picked up an impressive four nominations, including 'Best Album' and 'Best Live Act'. They are closely followed by Muse who continue the success of their new album 'Black Holes & Revelations' with three nominations, including 'Best Act In The World Today'. There will also be a number of special awards celebrating outstanding achievements in music in addition to the 6 nominated categories below including the 'Outstanding Contribution to Music Award', which will be going to Soul legend Smokey Robinson.
A Q Award is undoubtedly one of the most coveted awards in music as it is the public that votes for each of the categories listed here. Voting is completed by the fans at either the Q website - www.q4music.co.uk, via email - qawards2006@emap.com or text messaging - 88833.
Q Editor Paul Rees says – "The Q Awards, uniquely, are voted for by genuine music fans – the Q readers. They are a fine, upstanding body, and once again they have recognised the year's best music in all its diversity. This year's Q Awards coincide with the 20th anniversary of the magazine. As a result, the event will be particularly special this year. In fact, we rather fancy it will be the year's essential music ceremony."
Jonathan Ross presents the ceremony for the third year in a row ensuring that egos will be measured and quotes will be in abundance. Last year saw Liam Gallagher calling Chris Martin a 'plant pot', Noel Gallagher cavorting with Storm Troopers and Yoko Ono dissing Paul McCartney, before Damon Albarn and Bjork whooped it up on the dance floor!
And, of course, the previous year saw Elton John's four-letter tirade about Madonna.
Q Magazine marked its 20th birthday this month with a celebratory anniversary issue. This featured 20 separate cover stars, each one a musical icon, and each one exclusively photographed and interviewed for Q.
In this special 20th birthday for Q magazine, this year's event will feature a number of special presentations for a number of icons, legends and heroes of the magazine.

THE Q AWARDS Nominees 2006
Brought To You By Yahoo! Music
Best New Act sponsored by Island Records
Voted for by the readers of Q
2005 Winner: James Blunt
Lily Allen
Corinne Bailey Rae
The Kooks
Arctic Monkeys
Orson

Best Track sponsored by Napster
Voted for by the readers of Q
2005 Winner KT Tunstall 'Black Horse & The Cherry Tree'
'Chasing Cars' by Snow Patrol
'Crazy' by Gnarls Barkley
'I Don't Feel Like Dancing' by Scissor Sisters
'Never Be Lonely' The Feeling
'I Bet You Look Good On The Dancefloor' by Arctic Monkeys

Best Live Act sponsored by Marshall Amplification
Voted for by the readers of Q
2005 Winner U2

Oasis
Razorlight
Muse
Red Hot Chili Peppers
Arctic Monkeys

Best Album sponsored by Play.com
Voted for by the readers of Q
2005 Winner Oasis 'Don't Believe The Truth'
'Black Holes And Revelations' by Muse
'Empire' by Kasabian
'Under The Iron Sea' by Keane
'Razorlight' by Razorlight
'Whatever People Say I Am That's What I'm Not' by Arctic Monkeys
'Eyes Open' by Snow Patrol


Best Video
Chosen by viewers of Q TV
2005 Winner Gorillaz 'Feel Good Inc'
'When You Were Young' by The Killers
'I Don't Feel Like Dancing' by Scissor Sisters
'Empire' by Kasabian
'Smiley Faces' by Gnarls Barkley
'Why Won't You Give Me Your Love?' The Zutons

Best Act In The World Today sponsored by O2
Chosen by the readers of Q Magazine
2005 Winner Coldplay
Muse
Coldplay
Oasis
U2
Red Hot Chili Peppers
The People's Choice Award
Arctic Monkeys
Q Inspiration Award
A-ha
Q Outstanding Contribution to Music Award
Smokey Robinson
Q Groundbreaker Award
Primal Scream
Q Icon Award
Jeff Lynee
Q Idol Award
Take That
Q Outstanding Performance Award
Faithless
Q Innovation in Sound Award
U2
Q Classic Songwriter Award
Noel Gallagher
Q Lifetime Achievement Award
Peter Gabriel
Q Merit Award
Manic Street Preachers
Q Classic Song Award
Karma Chameleon
Q Legend Award
The Who
Q Award of Awards
U2
Click here to access press contacts for the event