INXS UK Tour
Friday 15th September 2006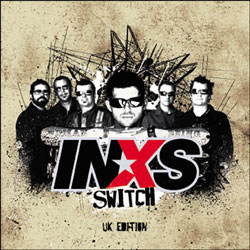 Following shows to half a million people this year and sales of 800,000 under their belts, INXS will roll into the UK for intimate shows and an exclusive album release.
"If there was ever any question as to whether new INXS lead singer J.D. Fortune could be credible performing a whole set, he wiped out all doubt." - The Seattle Times
Such is the demand for INXS, half a million people around the globe have already witnessed the Switched On live show in Australasia, Canada, Asia and the USA and finally, INXS – helmed by new lead singer J.D. Fortune - will reach the UK in October almost 9 months after the tour's inception. All three UK shows are sold-out prompting a third night to be added at Shepherd's Bush Empire on November 7th due to public demand.
"It was a jubilant return for the surviving quintet of members. Their joy at playing with a sexy and talented young singer was palpable and contagious." - Boston Herald
Bringing the show straight to their fans, the intimate tour will kick off at London's Shepherd's Bush Empire on Thursday October 12th and will now end on November 7th for a third Shepherd's Bush Empire concert. This first jaunt back on UK soil for 4 years will see INXS play a series of highly intimate venues as they reconnect with their ardent UK fans as they promote the Guy Chambers-produced Switch – the highly anticipated new studio album.
Released in the UK and Ireland through MX3/Universal Music on October 16th, and having already accrued sales of over 800,000 around the globe, the unique UK edition of Switch is repackaged with new artwork, exclusive live tracks from the tour, exclusive remixes, videos and hidden new media content.
The album sees INXS back with a vengeance and fronted by the infectious tornado that is J.D. Fortune, who at the time of joining INXS was living out of his car in Toronto. "Not only was J.D. incredibly passionate about wanting the job," says Andrew Farriss, "but he has this enigmatic charisma. You're drawn to him. As an artist, he thinks outside the square and does things that are a little edgy."
The album will be preceded by a download-only single release of 'Afterglow'. INXS have scored 17 Billboard hits (7 of which were top 10), 23 UK hits, 35 Australian hits and 6 consecutive Top Ten UK and US albums. Over the course of their 25-year-career, INXS have performed over 4,000 live concerts in front of more than 25 million people across over 50 countries.
Peter Noble @ NOBLE PR LTD
Tel: +44 (0) 207 272 7772
E-mail: peter@noblepr.co.uk
Names In The News Archive