Filthy Lucre Label Launch
Tuesday 26th September 2006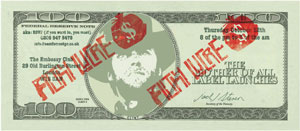 Jack Steven and Biff Worsley unleash Filthy Lucre to a very suspecting music industry courtesy of The Embassy Club in London's Mayfair on Thursday 12th October 2006.
Steven has a long and varied career, from uber A&R (MCA Records, RCA Records, CBS) finding and developing names such as Sade, The Eurythmics and Jamiroquai – to being the driving force as MD of Ministry of Sound and its successful compilation albums, original parties and club tours. Worsley, better known for his creative marketing, winning awards for his David Bowie and Soul to Soul campaigns.

The Filthy Lucre Label Launch will feature live sets from Filthy Lucre artists Apartment (recently supported Boy Kill Boy & The Killers) and Ashok (don't call it Jazz – it's 'New Beatnik'!) will be backed up by leading DJ's. Re-mixer and producer Syze Up, founder of Desert Eagle Discs will be hosting the upstairs lounge with his mix of hip hop, real soul and original breaks – whilst Jody3Kisses will keep the downstairs den alive with a mix of electro, indie and rock.
The (in)famous, award-winning Mojo Bar will be taking over the Embassy bar for the night creating their hedonistic cocktails for all those who dare. Specialities for the evening are the Filthy Lucre and Moneyshot cocktails. With a free bar and specialities such as Limoncello and Sambuca by Luxardo (complete with sexy shots girls), Adnams Explorer Blonde Bier and XXX
Numerous names from the industry - both record company individuals that have worked with Stevens and his team over the years and current artists are expected to attend.
So…? Superstar the leading young women's fragrance will be using the event to announce the winner of its national competition to find the face of So…? Superstar. The winner gets recording and modelling contracts together with the opportunity to live a VIP lifestyle for the next year.
Filthy Lucre is strictly invitation only. For details please contact
Sam Forrest PR/Band & Brand 020 89475 475
info@samforrestpr.co.uk
Filthy Lucre Records
Kuba Music
53 Ramillies Road, Chiswick, London, W4 1JW. 0208 747 4624
biff@kubamusic.org
Names In The News Archive