Nicole Kidman launches Cancer Research UK's Breast Cancer Awareness Campaign
Friday 29th September 2006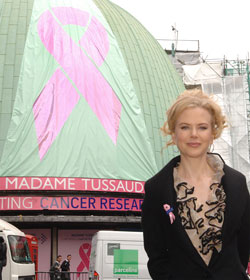 Nicole launches Cancer Research UK's breast cancer awareness
campaign at Madame Tussauds - photo by John Nicholson
UPFRONT, the partner company of CELEBRITIES WORLDWIDE, was responsible for arranging for Hollywood actress Nicole Kidman to launch Cancer Research UK's campaign for breast cancer awareness month (October).
The stunning superstar drew the crowds as she posed for photos outside top London tourist waxworks attraction Madame Tussauds, specially adorned for the occasion with a giant pink ribbon (the symbol of the campaign), on top
of the Stardome.
Ms Kidman, 39, took time out from her busy schedule in the UK - where she is shooting "His Dark Materials: The Golden Compass" with new James Bond star Daniel Craig - to support the charity campaign.
The Australian movie star urged women to be more aware of the disease. She has personal experience of the devastating effects of the illness as her mother Janelle was diagnosed with breast cancer when Kidman was 17 and went
on to overcome the disease.
"As someone whose family has personally been affected by the disease, I can't stress enough how important it is that women get to know and understand what is normal for their body," she said.
"I am honoured to mark the beginning of Breast Cancer Awareness Month and I hope that this Cancer Research UK campaign will raise awareness of breast cancer amongst women of all ages and encourage them to report any unusual
changes and go for screening if they are over 50. Together we will beat cancer."
In an exclusive interview with CELEBRITIES WORLDWIDE clients' ITV News, Nicole said her mother's cancer had affected her "in a way I will never forget". She told interviewer Nina Nannar: "Your whole family gets so affected by it emotionally. There are a lot of issues involved."
Dr Lesley Walker, Cancer Information Director at Cancer Research UK, said: "The charity is honoured to have Nicole Kidman here today to launch Breast Cancer Awareness Month. Nicole's involvement is crucial to help raise awareness of this disease, which affects nearly 42,000 women in the UK each year. "The risk of developing breast cancer is strongly linked to age but it's important for all women to be breast aware and tell their doctor if they notice any change in the look or feel of a breast."
To generate further awareness and raise funds for research into the disease, Cancer Research UK and Madame Tussauds will hold a big, pink party. The "A Touch of Pink" party on 5 October 2006 will be held in the Blush room of Madame Tussauds, amongst the famous figures. A host of celebrities are expected to attend and tickets are on sale now. Email tickets@atouchofpink.org for details.
Nicky Hobbs, head of PR & external relations at Madame Tussauds, said, "Madame Tussauds is proud to stand alongside Cancer Research UK in the fight against breast cancer. By all joining together to help raise awareness and funds throughout Breast Cancer Awareness Month, Madame Tussauds hopes another significant step can be taken towards beating the disease."
Cancer Research UK's breast cancer campaign, called All Join Together, aims to encourage women to be more breast aware, especially those over 50 who are more at risk.
For further information about Cancer Research UK's work or to find out how to support the charity, please call 020 7009 8820 or visit www.cancerresearchuk.org.uk.
For A Touch Of Pink tickets, please email tickets@atouchofpink.org
Richard Brecker, Joint Managing Director of Upfront and Celebrities Worldwide, said, "We are proud and privileged to be working alongside Cancer Research UK and are thrilled that one of the biggest names in the world, Nicole Kidman, agreed to lend her support to this magnificent campaign."
Madame Tussauds is an international icon: a tourist attraction recognised the world over. Its famous wax figures and interactive experiences are currently sited in London, New York, Las Vegas, Amsterdam, Shanghai and Hong Kong.
About Cancer Research UK:
Together with its partners and supporters, Cancer Research UK's vision is to beat cancer.
Cancer Research UK carries out world-class research to improve understanding of the disease and find out how to prevent, diagnose and treat different kinds of cancer.
Cancer Research UK ensures that its findings are used to improve the lives of all cancer patients.
Cancer Research UK helps people to understand cancer, the progress that is being made and the choices each person can make.
Cancer Research UK works in partnership with others to achieve the greatestimpact in the global fight against cancer.

Sophy Fitzpatrick (nee Gould)
Senior Press Officer (Health)
Cancer Research UK
61 Lincoln's Inn Fields
London, WC2A 3PX
Direct Line: 020 7061 8318
Out of Hours: 070 5026 4059
Press Office: 020 7061 8300
Fax: 020 7061 8349

www.cancerresearchuk.org
www.cancerhelp.org.uk
Registered charity no. 1089464
About UPFRONT
UPFRONT TV (established 1991) and partner company CELEBRITIES WORLDWIDE (established 2000) www.celebritiesworldwide.com specialise in securing talent and celebrities for television and film productions, award ceremonies chairty campaigns and high profile events
In addition to teaming up with the major event companies, we regularly work alongside the leading PR, advertising, film and TV production and other media companies.
Contact: Richard Brecker
tel + 44 (0) 7836 246 777
e: richard@upfronttv.com
e: richard@celebritiesworldwide.com
Names In The News Archive