Kyle Eastwood - 'Now'
Tuesday 3rd October 2006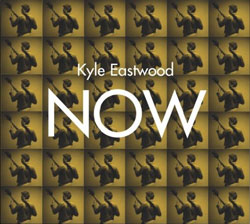 "Having a famous father hasn't proved a handicap… The jazz bassist is too busy gathering fans on his own merits."
The Independent
NOW is the follow up to Kyle Eastwood's first CANDID recording, the critically acclaimed PARIS BLUE. Kyle is the son of the Oscar winning actor & director Clint Eastwood and is now an esteemed bass player and band leader. Kyle came to join CANDID whilst he was living in London in the early part of 2004 where he made the acquaintance of Alan Bates, CEO of CANDID RECORDS.
Kyle regularly scores music for films, in 2004 and 2005 he contributed music for two blockbuster movies Mystic River and Million Dollar Baby, both of which went on to win multiple Oscars. He will be contributing material to the soundtrack for his father's forthcoming World War II epic Flags Of Our Fathers, starring Ryan Phillippe.
NOW is a mix of upbeat vocal tracks, which features the voice and compositional expertise of Ben Cullum (who also writes for his brother Jamie) and a collection of chilled contemporary jazz instrumentals. Any of the three vocal tracks that feature Ben could be a hit, with the soulful sound of his voice against that of Kyle's bass proving a perfect balance. Michael Stevens also features on vocals on a dream-like version of Sting's classic "Every Little Thing She Does Is Magic".
As always, Kyle has assembled a phenomenal team of musicians for this project. This time, the list of contributors reads like a 'who's who' of the current British pop/jazz scene. It features the BBC Jazz Award-winning pianist Andrew McCormack with Ralph Salmins (Madonna, Macy Gray) on drums and ace London musicians Graeme Flowers and Dave O'Higgins on trumpet and tenor saxophone respectively.
The album is a testament to Kyle's considerable strength as a songwriter and bandleader as well as a musician. With NOW, he has created a taut collection of accessible jazz numbers that all bear his stamp whether he is stepping back to let vocals take the lead (as with the Ben Cullum tracks), mixing brass-driven funk and gentle electronica ('Nasty Girl') or giving us a loose, Rhodes-piano groove on 'How Y'all Doing'. NOW is simply one of the year's classiest records. On the album's closing track, Kyle can be heard saying 'let's take it home'. The manner in which he says this embodies NOW – understated and the epitome of cool.

Personnel
Acoustic Bass - Kyle Eastwood
Vocals - Ben Cullum
Background Vocals / Keyboard / Guitar - Michael Stevens
Piano - Andrew McCormack and John Beasley
Drums - Ralph Salmins
Trumpet - Graeme Flowers
Tenor Saxophone - Dave O'higgins
Alto Saxophone - Doug Webb

Public launch! - October 4 - The Pigalle Club, Piccadilly, London W1J
www.myspace.com/kyleeastwood & www.candidrecords.com
Click here to access press contacts for the above event
Click here to buy 'Kyle Eastwood - Now'
Names In The News Archive