Chris Moyles - 'The Gospel According to Chris Moyles
Friday 6th October 2006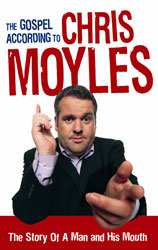 "You will love this book"
Simon Cowell
Motor mouth. Loud mouth. Overpaid ego.
What is the truth? Who is the man they call 'The Saviour of Radio 1'?
And what does he have to say for himself when he's not on air?
Forthright, funny and totally irreverent, 'The Gospel According to Chris Moyles' is the award-winning DJ's take on the world around him. Tackling a whole range of topics from his first appearance on the radio to trying to park outside his own flat, being taught by nuns at school to why Jeremy Clarkson is an a***, he reveals just what makes him tick and what plain ticks him off.
Introducing his family, friends and the team on his show, he tracks how he went from teenage DJ on a mental hospital radio to the nation's favourite breakfast show presenter on BBC Radio 1. He talks about interviewing the world's most famous celebrities, even including the miserable one from Girls Aloud, why most DJs are rubbish and how he survived working at radio stations from Luxembourg to Stoke on Trent. He reveals what it was like singing in front of Simon Cowell on X Factor, who his favourite (and worst) guests have been and just how Comedy Dave took Radio 1 off air for fifteen minutes.
Taking you on a guided tour of his world, 'The Gospel According to Chris Moyles' reveals exactly how things look through the Saviour of Radio's eyes. Bold, brash and entertaining this is the story of one man and his mouth.
Chris Moyles was born in Leeds in 1974. It was a time when 70's clothes and music was all the rage. The youngest son of two fantastic parents, Chris was encouraged to pursue his ambition to make it as a national radio broadcaster. Many people think this was the sign of two people who loved their son very much. Two people who really wanted to see their son fulfil his childhood dream. It wasn't. They were poor, lazy and greedy.
In 1997 he joined BBC Radio 1. After 6 years on the air, Chris achieved his childhood ambition and was given the biggest show on the station, the legendary Breakfast show. In less than 2 years, he had added over 1 million listeners. Currently the show has over 8 million people tuning in each week.
His parents have received nothing.
Click here to buy 'Chris Moyles - The Gospel According to Chris Moyles'
Names In The News Archive