Gary Barlow - 'My Take'
Tuesday 10th October 2006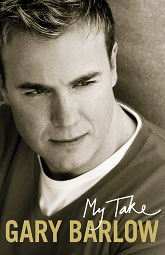 Gary Barlow – the original song-writing talent behind Take That – reveals the truth of life before, during and returning to the most successful British boy band ever.
Over 7 million people watched the ITV documentary on Take That. Their records sold millions, and they sold out arenas for their concerts in less time than it took to play one of their singles. When they split in 1996, a Samaritans helpline was set up especially for their distraught fans.
Gary Barlow, the band's front man was the voice and talent behind many of their eight No. 1 hits. His songs, including 'Back to Good', 'Never Forget' and 'A Million Love Songs' were the sound of the early nineties. Tipped as the next Elton John, a glittering solo career was predicted. So how come less than two years later, he had been dropped by his label, written off as a has-been and consigned to pop oblivion?

'My Take' is Gary's engaging story of his ride on the rollercoaster of fame. He writes about his childhood and close family, his apprenticeship in the working men's clubs of the north of England and his unstoppable ambition in the days before overnight celebrity, Pop Idol, and X-Factor, when it was all about hard graft and commitment. There was the life-changing moment when he met Nigel Martin-Smith, the Manchester modelling agent who wanted to put together a boy band, the high-jinks and pressures of band life and the three lads who became and are his best friends. He also tells of how the dream crumbled, just as Robbie Williams became a megastar and made Gary the butt of his jokes.

But Gary, though he retreated from the public eye, let his weight balloon and battled with depression, wasn't finished yet. He built up a career as a songwriter, writing hits for Delta Goodrem, Charlotte Church and Blue among others. More importantly he became a husband and a dad. And, softened by a happy home life, he began to reassess the crazy Take That years. Could there be a way to live the dream again?
Ten years on, 'Take That' has made one of pop's great comebacks – phenomenal sellout reunion tour, an album in the pipeline and a whole new take on their music. Confident, candid and down-to-earth, Gary Barlow is definitely back for good.
Click here to buy Gary Barlow 'My Take'
Names In The News Archive