Paul Burrell - 'The Way We Were: Remembering Diana'
Wednesday 11th October 2006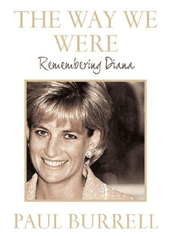 'This unique and remarkable woman, quite simply, inspired my life for ten years and influenced it for ever. Serving Diana, Princess of Wales was more than a job – it was a privilege. In writing this, my final book on Diana, I want to remember the real Princess, the one I saw every day. With the inquest of her death imminent and the tenth anniversary year fast approaching, I want to keep at the forefront of everyone's mind what a truly special person she was, no matter what further scrutiny her character and mindset are subjected to.'
Paul Burrell
As the world prepares for the inquest into the death of Diana, Princess of Wales – and with the approach of the 10th anniversary year of the tragedy in Paris – Paul Burrell releases the sequel to his international bestseller, A Royal Duty and his final book about life with the Princess. The Way We Were: Remembering Diana is published on Tuesday September 12th 2006.
THE WAY WE WERE is a commemorative book full of personal memories. Responding to more than one hundred thousand emails and letters following his last book (which sold more than 2 million copies worldwide), Paul Burrell –employee, friend and confidant – opens the door to Kensington Palace and draws us ever closer to the princess in a warm and tender tribute.
Other books have and will attempt to enter the inner sanctum of life behind closed doors. But Paul Burrell's first-hand account provides an unrivalled authenticity. THE WAY WE WERE is an insightful account of life with Diana and a unique, visual tour of Kensington Palace using Burrell's own collection of interior photographs so giving access to Diana's home – a home which has since been destroyed.

REMEMBERING THE WAY IT REALLY WAS….
Burrell establishes beyond doubt that Diana was not due to be engaged at the time of her death – and reveals for the first time that Dodi Al Fayed had given her a ring, nothing more than a friendship band. And in order to demonstrate that Dodi was not 'The One', Burrell breaks new ground by telling the real behind-the-scenes love story with Hasnat Khan. Burrell was the one 'go-between' who was allowed to witness this romance in the Princess's life.
Burrell explores the strength of the friendship with Sarah Ferguson before it turned sour, and examines a desperate plea the Duchess made via one of her daughters to heal the rift.
The book contains the only photos that exist of Diana's private apartments creating a museum of memories to take the reader back in time. Whereas after the deaths of the Queen Mother and Princess Margaret the Royal Family opened up their apartments to the public, Diana, Princess of Wales was not afforded a similar privilege. Room by room, memory by memory, he takes us on a fascinating guided tour through Apartments 8 & 9 of 'KP'.
Diana, The White House and Hollywood
How Diana didn't want to dance with Travolta on a famous night at the White House…she longed instead to be asked by another guest, Mikhail Baryshnikov. Plus her encounters with Jack Nicholson, Oprah Winfrey, Michael Jackson and Tom Cruise….
Diana as a compassionate friend
A first hand, poignant account of Diana's extraordinary act of friendship when she alllowed the secret burial of a stillborn child in the walled garden of Kensington Palace.
Burrell takes us further into the heart and mind of the Princess than any book has hitherto managed to do. Included are some of her notes or 'wisdoms from Kensington' and highlighted pages of The Road Less Travelled – all of which helped her in her quest for self-discovery and gave her inner strength as she strived to understand herself better.
From a lasting answering machine message left by Diana to a famous friend to moving memories of an all night vigil on the eve of her funeral, Burrell shares never-before-known details of his final farewell, and how he ensured that each friend said goodbye with an unforgettable memory.

* * * * *
For those hundreds of thousands of people around the world who continue to commemorate this extraordinary woman's life, Paul Burrell's book takes them further than anyone has ever done before into the personal world and thoughts of Diana and invites them into a life that was – and continues to be -- an inspiration to so many. It will preserve the memory of the real Princess – the warmth, the vivacity and the generosity of this iconic figure and it will play a part in ensuring that these qualities and memories are not lost or obscured in the coming months as the circumstances behind her death are held up to scrutiny, leading to inevitable global media analysis and speculation.
Burrell's final book, dedicated to the woman he served is published as a lasting tribute from one who was a constant in her turbulent life and from one who has long promised 'to stand forever in her corner and shout on her behalf''.
Click here to purchase Paul Burrell 'The Way We Were: Remembering Diana
Names In The News Archive