Entourage
Friday 13th October 2006
The second series starts on Sunday 29th October 2006 at 10pm on ITV2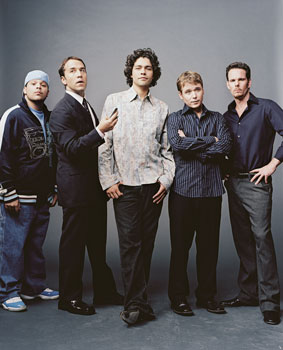 'wildly original, artfully written, sharply acted blast of comedic heat' Hollywood Reporter
'a howl mordantly funny scenes' Wall Street Journal
'shockingly entertaining uniformly strong cast. The summer's most pleasant surprise' USA Today
'Television has finally gotten guys right!' GQ
'Entourage is all charm and youthful energy, with bite' Vogue
Take all the trappings of Hollywood excess, add real friendships, sexy ladies and top it off with 4 good looking guys and you get HBO's hit US show Entourage, which makes its long awaited UK debut this September. Arriving in style to ITV2, Entourage looks set to repeat its success and cult following in the US by capturing the hearts, imagination and humour of UK viewers. Entourage tells the story of male friendship in extraordinary circumstances via up and coming actor Vince Chase (played by Adrian Grenier) who moves from New York to Hollywood. Making the move unique he brings along 3 of his closet friends for the life changing journey - his 'Entourage'. Vince's friends consist of best mate Eric (played by Kevin Connolly) who works as Vince's day to day manager, his older brother Johnny 'Drama' Chase (played by Kevin Dillon) a has been 90's actor and finally Turtle (played by Jerry Ferrara), a guy that rides on every opportunity being in uber cool Hollywood offers.Ensuring Vince makes it big in Hollywood is his high powered, aggressive agent, Ari (played by Golden Globe nominee Jeremy Piven). From the moment you meet Ari on screen you know he's going to be one of those classic TV characters that people talk about weeks after he's spoken his latest 'words of wisdom' on screen.
The Hollywood glitterati have also been running up the red carpet to make cameos on this critically acclaimed show from Scarlett Johansson and James Woods, through to James Cameron.
"It's a fantastic coup for us to have the hottest show in the US right now coming to ITV2 this autumn. Entourage is perfect water cooler TV, every episode of the comedy drama lets UK viewers take a peek inside the real lives of the Hollywood elite. Entourage helps cement our commitment to showing the hottest new shows around on the most popular multi-channel in the UK - ITV2" states Zai Bennett, Controller of ITV2. ITV2 will be screening the first two seasons of Entourage back to back starting on September 10th at 10pm. The show's creator and head executive producer is Doug Ellin, the other executive producers are Mark Wahlberg and Stephen Levinson.
Click here to access press contacts
Names In The News Archive