The Snowman - Sadler's Wells Peacock Theatre
Peacock Theatre, Portugal Street, London, WC2A 2HT
Wednesday 6 December 2006 – Sunday 7 January 2007
Tickets £12 - £30
Ticket Office 0870 737 0337
www.sadlerswells.com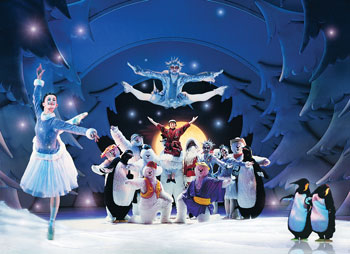 *Click here to watch the video*
"An essential part of London's Christmas calendar" Time Out
Flying in to London's Peacock Theatre for the ninth consecutive year, Birmingham Repertory Theatre's 'The Snowman' returns to enthral audience of all ages from Wednesday 6 December 2006 - Sunday 7 January 2007.
Sparkling with charm and wit, 'The Snowman' tells the magical story of a young boy's adventures when his snowman comes miraculously to life on Christmas Eve. A glittering host of international snowmen and snowwomen are joined onstage by an array of colourful characters including dancing penguins, magical reindeer, a beautiful snow princess and her abominable beau Jack Frost and of course, Father Christmas himself. With its joyful combination of classic storytelling, music and dance, The Snowman is an enchanting Christmas treat for all the family.
"In a world where most children's entertainment is loud, raucous, even hysterical, this gentle tale and style comes as a welcome relief…utterly charming…My expert reviewers (three and five) were entranced throughout." Financial Times
Bill Alexander's direction and Robert North's choreography are described by The Times as 'so full of fun that you want to join in.' Composed by Howard Blake, the production's score includes the signature song 'Walking in the Air' which reached number 3 in the UK charts when sung by choirboy Aled Jones in 1985.
The Snowman first appeared as a beautifully illustrated picture book by Raymond Briggs in 1978. It has since inspired the classic Oscar Nominated, BAFTA Award winning animated film, first transmitted by Channel 4 on Christmas Eve, 1982.
Suitable for children aged two and upwards, The Snowman opens at the Peacock Theatre on Wednesday 6 December 2006 and runs until Sunday 7 January 2007.
Schedule varies with shows at 11.00am, 2.30pm and 7.00pm
No performances on all Mondays and Wednesday 13 and Thursday 14 December. No 11.00am performances on Tuesday 26 December and Thursday 4 and Friday 5 January 2007.
Click here to access press contacts
Names In The News Archive