Jimmy Carr 'Live Collection'
Thursday 9th November 2006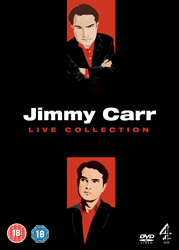 New 2-disc DVD box set released Monday 13th November 2006
'Exquisitely economical and perfectly timed one-liners' Daily Telegraph
'Fabulous . . . No.1 on the Comedy Offenders List' The Times
'A masterclass in comedy' Guardian

Multi-award-winning comedian Jimmy Carr continues his quest to entertain the masses with the release of his new Live Collection box set, compromising of two of his hugely successful DVDs; Jimmy Carr Live and Jimmy Carr Stand Up.
With his trademark one-liners and gags ranging from the slick to the downright sick, the charming comic with the scathing tongue escapes the restraints of the TV studio and takes his dry and sardonic style to a whole new level in these two shows.
Filmed in front of a full house at London's Bloomsbury Theatre in 2004, and with material deemed too rude for telly, Jimmy Carr Live does exactly what it says on the tin – two hours of clever, crude and offensive gags from one of comedy's biggest faces (in every sense). Released last year, Jimmy Carr Stand Up shows Jimmy at his most contentious, as he comments on life's taboos, unleashing his jokes and offensive putdowns. And it seems that no-one and nothing is safe from Jimmy's cutting remarks as he delves into a diverse range of subjects, including religion, women's rights, threesomes…
Jimmy Carr Live features 30 minutes of bonus material including a Q&A session with members of the audience live on stage, the best bits from his performance at the 2003 Royal Variety Performance and a behind-the-scenes look at Jimmy before a live show. And for those budding comedians out there, Jimmy concludes his show with a unique encore including karaoke-style subtitles to "teach yourself how to be a comedian".
In addition to that, Stand Up features over 90 minutes of exclusive DVD extra material including Jimmy Carr's Comedy Idol – packed full of unbelievable, cringe-worthy 'try-hard' moments from Britain's budding comics as well as some genuinely funny new talent; unforgettable commentary from his XFM shows; his critically acclaimed Comedy Central Performance – a half hour stand up performance and the superb BBC ONE Top Gear interview, where Jimmy became the fastest celebrity to go round the test track in a reasonably-priced car – a record he held for a long time before finally getting knocked off the top spot by Ellen MacArthur in December last year.
It's been another hectic year for Jimmy. As well as writing his first book titled The Naked Jape, which was released by Penguin books in the US and UK on 21st September and 2nd November respectively (UK priced £12.99), Jimmy completes his third solo Edinburgh Festival show, Gag Reflex, in August (Edinburgh International Conference Centre, 17th-19th and 24-26th) and launches a nation-wide stand-up tour between October and December. All details available at www.jimmycarr.com
Continuing to be a huge ratings winner with over 3.5m viewers tuning in to its Friday night edition, a fourth series of Jimmy's hit Channel 4 prime-time TV show Eight out of Ten Cats begins on Friday 20th October. Recently Jimmy has made three appearances on the big screen; starring in Brit comedy Confetti, in Alien Autopsy alongside Ant & Dec and in Storm Breaker. In July this year Jimmy performed at the third Montreal 'Just for Laughs' Comedy Festival, where his stand up was hailed as "beyond jolly good" by critics.
In the US, Jimmy's profile continues to grow. The second series of his game show Distraction aired on Comedy Central earlier this year, and is currently being repeated. Jimmy has also appeared three times on NBC's flagship programme The Tonight Show with Jay Leno and twice on NBC's Late Night with Conan O'Brien. Return visits to both these shows are in the pipeline. Jimmy presents a Sunday morning radio show on XFM 104.9 FM from 10am-1pm which returns in October.
Over the past few years, Jimmy has deservedly earned his place amongst the premiere league of British comics. Jimmy's stand-up achievements include a Perrier Award nomination, Best Stand Up at the Time Out Awards and Best on Screen Newcomer from the Royal Television Society. Jimmy's other TV accolades include the prestigious Silver Rose of Montreux award and a Rose d'Or nomination for best gameshow host at this year's awards.
Names In The News Archive