Laura Sayers - 'Laura's Diary'
Tuesday 21st November 2006
Book signing 1st December 2006 12.20pm - Waterstone's, 128-129 High Ousegate, York, YO1 8RX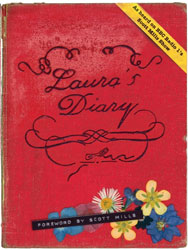 Shoebox secrets. How one girl's private revelations gripped a nation and got the suitors queuing.
When nosey little sister Mary "stumbles" across Laura's diary in her old bedroom in York, it kick-starts a series of events that would change people's lives forever. Winding its way onto national radio, embarrassing secrets that should have remained hidden forever in the dusty vault of a shoebox were made public - very public - for the first time.
True tales of Laura's unrequited love, punishing home regime and tragic fashion decisions all came back to haunt, and what started as a radio prank went on to become a national obsession that captivated the hearts of millions, broke records on the airwaves... and got one girl loads of dates.
Originally starting life on the BBC Radio 1 Chris Moyles show, the continued popularity of the Laura's Diary segment saw it moved to the drive time slot. Later voted one of the most popular segments on the BBC Radio 1 Scott Mills show, Laura's Diary and the One Night with Laura competition became a true drive-time phenomenon, at one point attracting more people to its mini-site then any other created in Radio 1 history. The popularity isn't just limited to the UK, Laura has received emails from as far away as America, Beirut and Japan. These emails came from ex-patriots, who listened into the show via the internet, applauding the diaries and eagerly awaiting the book. And now, with the much awaited release of the book, listeners can once again savour the highs and lows of Laura's romantic life.
Younger sister Mary Sayers has taken great pleasure in embarrassing her older sibling on live radio by reading out Laura's adolescent musings. "I think it's every little sister's dream to find her teenage siblings diary, so you can imagine how I felt when I found Laura's in our bedroom in York", said Mary. "Not only is it hilariously funny to read, it was also the greatest weapon I could use to embarrass my sister on national radio!"
Perhaps the success of Laura's Diary lies in the fact that it was never meant to be. The honesty with which Laura wrote her diary struck a chord with listeners everywhere, proving to women that they weren't alone in their adolescent feelings of despair and heartbreak, and even affording men an amazing peek into the ways of the enemy camp Lavishly reproduced in handwritten format along with the "diary doodlings" listeners have grown to love. Listeners were left with a cliffhanger when in the last broadcast entry it was revealed that Laura thought she was pregnant. The book contains some never before heard entries and fans can find out what happened next. Laura's Diary is certain to put a smile on the faces of many when it's released in November.
Laura's Diary (ISBN 0955075122, PB) retails for £7.99 and will be available in stores from 30 November.
About the author
Laura Sayers (born October 11, 1978) is an assistant producer on the Scott Mills show on BBC Radio 1. Originally from York, Laura later moved away to study at the University of Glasgow. Laura joined Radio 1 as part of the BBC's Talent scheme and since then she's been an integral part of the Scott Mills show's on-air team, often being put into potentially humiliating situations in the name of entertainment.
In October 2005 Laura's younger sister, Mary, found Laura's childhood diaries in her old bedroom in York and has been reading out extracts on Scott's show ever since. From the diaries it became clear that Laura has always been unlucky in love which prompted Scott to start a nationwide search to find her a boyfriend. This became One Night With Laura, an X-Factor style tour of the UK auditioning suitors. The eventual winner was Gareth from Chard (although Laura soon dumped him to go out with James who came 4th in the competition).
Click here to access press contacts
Names In The News Archive