English National Ballet
Christmas at the Coliseum
The Nutcracker, Alice in Wonderland and Giselle
8th December 2006 - 13th January 2007
London Coliseum, St Martin's Lane, London, WC2N 4ES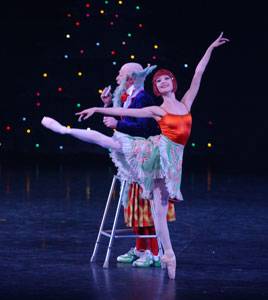 Photo courtesy of Daria Klimentova
*Click here to watch the video*
Christmas tidings of magic, mystery and tradition The Nutcracker, Alice in Wonderland and Giselle bring English National Ballet to the Coliseum for its longest Christmas residency.
English National Ballet will take over London's landmark Coliseum for its longest ever Christmas season at the venue, with three of its most successful productions. The season opens with Christopher Hampson and Gerald Scarfe's dynamic production of The Nutcracker (8 – 24 December), followed by Derek Deane's sumptuous Alice in Wonderland (28 December – 7 January) and ending with the more traditional tones of Mary Skeaping's Giselle (10 – 13 January).
English National Ballet's record-breaking Christmas season 2005/6 has prompted the Company to produce three, rather than the usual two, ballets at the Coliseum this year. The Nutcracker returns once more to dazzle audiences with its wild and wacky scenery, effects and costumes. The Nutcracker has now been part of English National Ballet's Christmas repertoire for 56 years.
"****…a thrill-seeking, crowd-pleasing, visual 'wow' topical 'now' sort of ballet, with nods to Strictly Come Dancing, paratroopers and an oversized fridge … in terms of fantasy, bold design and – whisper it – accessibility, this Nutcracker invited the delight of all the pint-sized members of our crowd and their stuffy old-guard guardians too."
Metro
This magical production of The Nutcracker is colourful, vibrant and exciting. Clara, her Nutcracker doll and the magician, Drosselmeyer, take us on a trip of amazing adventures in the Land of Snow and the Kingdom of the Sweets. Clara battles with a Mouse King, flies on an origami bird and falls in love with a handsome Prince. Choreographer Christopher Hampson is returning to add new elements to the original show and expand the existing choreography. Gerald Scarfe and choreographer Christopher Hampson's magical show is the ideal Christmas treat for all the family.
Alice in Wonderland was last seen in 2000 and choreographer Derek Deane has updated the show for 2006's audience. With innovative choreography, fabulous designs, breathtaking illusions and a striking Tchaikovsky score, the magic and mystery of this quintessential children's classic are superbly translated to the stage. Alice in Wonderland is known for its array of outlandish characters and the costumes, dreamt up by Sue Blane, are fittingly bizarre and captivating.
"Sue Blane's gorgeous designs are brilliant re-creations or adaptations of Tenniel's images. As an animated picture-book, Deane and Blane's staging scores highly"
The Sunday Times
The Company's delightful production of Mary Skeaping's Giselle opened the Spring UK regional tour earlier this year and will be going overseas to Barcelona in September. London audiences will finally get a chance to enjoy this version of the ballet in the new year, for the first time since 1991. Giselle's haunting tale of a peasant girl's innocent love for the handsome Duke Albrecht and her subsequent betrayal, which casts the characters into the realm of madness and the supernatural. This is the ultimate Romantic ballet.
"English National Ballet is looking tremendous in Giselle"
The Sunday Express
This production was commissioned for English National Ballet in 1971 by Dame Beryl Grey who was then the Company's Artistic Director. Skeaping's version of Giselle is set to Adolphe Adam's evocative score and realised for the stage in David Walker's set and costume designs, with lighting designed by David Mohr.
Further demonstrating its commitment to developing audiences for ballet, Sky and Artsworld renews its tenure as National Tour Sponsor in 2006.
Jon Florsheim, BSkyB's Chief Marketing Officer said:

"As an entertainment company bringing a wide range of content to millions of people, Sky is delighted to once again be sponsoring English National Ballet's National Tour in 2006. Our continued partnership not only helps English National Ballet to put on its fantastic tour, but also gives great exposure to our dedicated arts channel Artsworld."
Wayne Eagling, English National Ballet's Artistic Director, said:
"We are delighted to be able to bring three ballets to the Coliseum this year. The breadth of productions is a wonderful demonstration of English National Ballet's commitment to diverse works that cater to young and old, traditional ballet fans and those who relish something innovative and full of surprises. The Christmas season in London is such an important part of our year – as a touring company it's wonderful to come home to such an incredible venue and have the chance to reach so many people with some of our most creative works."
Click here to access press contacts
Names In The News Archive