Emma Bunton - 'Life In Mono'
Monday 4th December 2006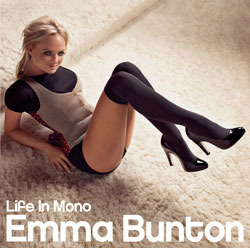 *Click here to watch the video*
13th November – 'DOWNTOWN' - Download release
20th November - 'DOWNTOWN'- Official Children In Need Single
4th December - 'LIFE IN MONO' - New album
Once in a while, everyone needs some time out from the world. A chance to take stock, reflect on all that has gone before and consider what should come next. For Emma Bunton, that moment was long overdue. On the brink of turning 30 in January 2006, she realised she had worked solidly for a decade, notching up millions of record sales and air miles along the way. "I met the Spice Girls when I was 18, and got straight onto the solo stuff later," she explains. "So I never had the chance to kick back and have lots of fun so I've been making up for it! I had a party for my 30th, moved home, went on holiday, and spent time with my family. But I was also still writing music and working on getting exactly the sound I wanted for the next album…"
As hectic as her schedule may have got, Emma never needed a break from the music itself. It's one thing that has been in her life as long as she can remember. "We always had music on when we were younger, it was such a natural thing to hear it all the time in the house," Emma remembers. "My dad loved Rolling Stones and my mum was into The Supremes, Marvin Gaye and Stevie Wonder. Every Sunday, I'd listen to the chart rundown before bedtime, trying to tape my favourite songs and cut out all the talking. I loved that excitement about music." Despite being a keen actress and attending the Sylvia Young Theatre School as a teenager though, Emma never considered doing music herself until much later.
Of course, fate had other ideas. In a big way. The Spice Girls became the biggest girl band on the planet, turning the five members into international megastars and making pop music fun again. Together, they sold an incredible 55 million records, scored nine Number One's in the UK alone, starred in their own film and repeatedly made the history books with their record-breaking world tours. "I almost forget how crazy it was until someone mentions it," Emma notes. "It's only recently when I've had a break that you get the chance to think, wow... wasn't all that amazing?"
A particular favourite memory for Emma is 'Spice Trader', which saw her go to India to star in a Bollywood film. "That was great," she laughs. "I love cultures that are completely different from ours. On sets here, everything's very organised but there it's so laid back. They virtually hammer the set together as you're on it! It was a great learning curve."
It is Emma's solo musical career that has been her greatest - and bravest - achievement yet though. She released her debut solo album, 'A Girl Like Me', in 2001 and was amazed by the reaction to her luscious 60's-inspired melodies which came later with her next album 'Free Me' under the guise of 19 Entertainment's Simon Fuller. "Going off on your own is always a risk after being in something so big, but I knew it was something I wanted to do," Emma reflects. "I just couldn't believe it when 'What Took You So Long?' stayed at Number One for two weeks. It was an unbelievable feeling. Then to have a similar success with the next record was fantastic. I've always made albums I feel are very much me, so it's great to have people enjoy them. This time, I wanted to take my time and make sure it was right again for me and my fans."
More contented than ever in her personal life, Emma started writing an album inspired by all the things she cherished - her nephew, her relationship, the music she grew up with, even the new-found determination brought on by her 30th birthday. 'Life In Mono' is therefore her most honest album yet, an intimate reflection of Emma's life and loves that reveals more than even she was expecting. "It's not until I listened to it over that I thought, oh my God! I said that on there!" she laughs. "It's like when you write a diary and put everything in it but when you read it back, you're shocked by how honest you were. At the time I was writing and I sort of forgot that people would listen to it so I wasn't self conscious. I am happy at the moment and I think that comes across on the record."
Musically, it sounds like a classic pop album even from the first listen, with rich orchestral backing, gorgeous harmonies and the sort of choruses Burt Bacharach could be proud of. It moves from the stunningly tender 'All I Need To Know' to the cheeky jazz of 'Undressing You' and the luscious Carpenters-style 'I'm Not Crying Over Yesterdays'. Above all, it captures Emma's thoroughly modern take on the elegant simplicity of 60's pop, best shown in her cover of Petula Clarke's 'Downtown', the first single to be released from the album, the official BBC Children In Need single.
Emma has also pulled on her dancing shoes and sequins for the charity and is currently starring in BBC1's 'Strictly Come Dancing'. But, she confesses, she's loving every minute of it…"Being able to dance like that is something I've always dreamt of," she explains. "I wanted to do something different and have a bit of a challenge, so it was perfect. All that training is making me sleep like a baby too!"
With an added spring in her step from the dancing and her well-deserved break, Emma's finally poised to move on to wherever life takes her next. Older, wiser and happier than she's ever been, she's ready to get back to what she does best and let the world hear exactly what's she's been up to. "I will be nervous just before the album comes out but I just have to think ok, this is what I've recorded, here you go, have a listen and see what you think. I hope people enjoy it but whatever happens, I know it's true to myself and I'm very proud of that."
Click here to purchase 'Emma Bunton - Life In Mono'
Names In The News Archive