Watercolours and Drawings Fair 2007
Thursday 1st – Sunday 4th February 2007 - The Royal Academy of Arts, 6 Burlington Gardens, London W1S 3EX
Preview Evening in aid of CLICSargent Wednesday 31st January 2007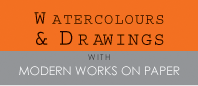 The Watercolours & Drawings Fair
With MODERN WORKS ON PAPER
Committee: Sara Carello, Lady Helen Taylor, Sahar Hashemi, Danny Brennan, Leila Abu-Sharr, Catherine Dean, Sasha Usiskin, Rachel Alexander, Michael Glass, Morag Morrison, Caroline Caviezel, Sabine Pasley Tyler, Yantra Lewis, Bhawna Desai, Vera Lissauer, Annette Mason, Alix Robson, Georgie Rowse, Celia Venturi, Pete Burrell, Solange Azagury Partridge, Andrew Craven, Lynne Nally, Susanne Kapoor, Sharleen Spiteri
The organisers of the annual Watercolours & Drawings Fair have announced a new event to run alongside the well-established fair in February 2007. The new fair, Modern Works on Paper, will feature photographs, prints, and art on paper in other media.
The combination of the Watercolours & Drawings Fair and Modern Works on Paper will offer collectors the broadest range of art on paper for sale under one roof in the UK.
The fair organisers are taking advantage of the extensive refurbishment of The Royal Academy of Arts 6 Burlington Gardens venue, which was recently undertaken for Charles Saatchi's "USA Today" show, following a major fire in part of the building. The work has opened up large spaces on the ground floor of the venue that were not previously available.
The two events will run alongside each other from 1 – 4 February 2007. An invitation-only preview party in aid of CLICSargent will launch the fairs on Wednesday 31 January, with a committee including jewellery designer Solange Azagury-Partridge and Coffee Republic co-founder Sahar Hashemi.
The Watercolours & Drawings Fair will be held as previously on the first floor of the building, at the same time as the new fair. This floor will continue to show only works drawn by hand in ink, chalk, crayon, charcoal, pastel, gouache and watercolour, and will cover every period from old masters to living artists.
Modern Works on Paper, on the ground floor of 6 Burlington Gardens, will feature 20th century and contemporary work.
"The fire completely destroyed the roof of one of the upstairs galleries. In addition to the damage caused by the fire itself, half a million gallons of water were used to extinguish it" said Richard Hodgson, one of the fair directors. "However, a huge amount of work was done in September and October to prepare the space for Saatchi's show this month. The result is a fresher space than ever, with wood floors throughout, tall white walls, and some extra rooms to exhibit in. The space is therefore ideally suited for showing contemporary and modern works."
Julian Hartnoll, art dealer and one of the other fair directors, said, "The conjunction of the two events will be an exciting new departure, broadening the appeal of our already well known and popular fair, and will be a fitting new event for this revitalised exhibition space."
All pictures at Modern Works on Paper and the Watercolours & Drawings Fair will be sale, and will be rigorously vetted for authenticity by experts. Prices range from £100 - £100,000.
Click here to access press contacts
Names In The News Archive