James Blunt - 'Wisemen' Video
Wednesday 8th March 2006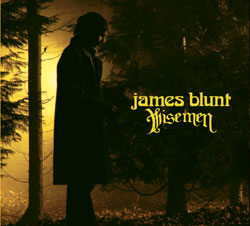 New Single Released March 13th on Atlantic Records
Click your preference below to watch the new video for 'Wisemen'
With the biggest selling album of the year, the third best-selling single and increasing international success, James Blunt has emerged as the UK's brightest singer/ songwriter talent. Now, with five BRIT nominations including Best Album and Best British Male, he returns with his new single 'Wisemen' on Atlantic Records, March 13th.
Written by James Blunt, Jimmy Hogarth and S.Skarbeck, 'Wisemen' is taken from his Number 1, debut album 'Back To Bedlam' and is undoubtedly one the LP's standout tracks. Produced and mixed by Tom Rothrock (Badly Drawn Boy) and Jimmy Hogarth, it combines optimistic, addictive melodies with poetic lyrics and James' unique voice.
Available on 7" and 2-track CD, the latter features a live recording of the album track 'Out Of My Mind' from his critically acclaimed live show at New York's Bowery Ballroom, November 2005.
James recently won a Q Award for Best New Act and continues to gain popularity throughout Europe and America. His debut album is climbing the US Billboard chart following its release there in October.
See the video for Wisemen:
Names In The News Archive