Prince - '3121'
Thursday 9th March 2006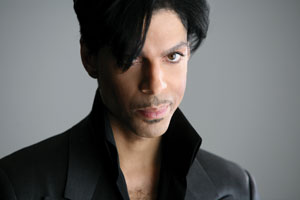 "the irresistible return of a pop genius"
Observer Music Monthly

Following his sensational show-stopping performance at this year's Brit Awards, Prince, universally regarded as one of the most creative and innovative talents to emerge since his debut in 1979, has his brand new album, "3121" released on March 20th through Universal/Island Records. Featured tracks on the 12-song album include the first single "Black Sweat", (released March 27th), "Beautiful, Loved & Blessed", featuring Tamar, "Fury", the track Prince premiered on Saturday Night Live, and indeed the Brits, and the title track "3121". The album also includes the beautiful "Tè Amo Corazón" ("I Love You, Sweetheart") the video for which was directed by Salma Hayek. "Salma heard the song and came up with the original concept," Prince said. "Salma is the most thoughtful, attentive director I have ever worked with. An absolute joy."
Prince's rise to fame was nothing short of meteoric, from the early feverish buzz that greeted the release of his 1979 debut "For You", to the worldwide acclaim as one of 20th century's most influential artists. USA Today has hailed him as "one of the most daring and brilliant artists," just one of the many accolades bestowed on Prince by both critics and peers throughout his career. The acclaim intensified with the release in 1984 of the Minnesota native's masterpiece, the dual phenomenon of "Purple Rain" (the film broke box office records, the Grammy-nominated album sold more than 11 million copies and spent 24 weeks at #1), making Prince one of the few triple-threats in history to simultaneously land the #1 single, album and film. His plaintively brilliant single, "When Doves Cry," the first of many Top Tens, exemplified the kind of transformational musical current that only Prince could deliver. To top it off, he won the "Best Original Score" Academy Award for "Purple Rain". A series of seminal albums – from 1985's Around The World In A Day to 1986's "Parade" to 1987's prophetic "Sign o' the Times", to 1989's "Batman" soundtrack to 1991's "Diamonds And Pearls", indelibly cemented his reputation as a 21st century impresario, and a fearless pursuer of the musical stratosphere.

With more than 60 million records sold, Prince launched his web-centric NPG Music Club, a groundbreaking, completely autonomous Prince-authorized nexus, emphasizing direct sales and value-added content for Prince fans and subscribers, a virtual template of the kind of online, artist-driven entrepreneurial models artists and internet gurus would be gravitating towards the close of the decade. More groundbreaking albums followed, with Prince himself stewarding their marketing and promotion. A varied array of label distribution deals were interspersed throughout, with major imprints such as EMI, Arista and Columbia, forming temporary but fruitful relationships with the evocative artist.

Last year saw the cultural icon command the mainstream music radar with a vengeance, releasing the critically and commercially acclaimed "Musicology" (the disc won two Grammys), being inducted to the Rock n' Roll Hall Of Fame, and rolling out one of the most successful, talked about tours in music history, coinciding with the two-decade anniversary of his masterpiece "Purple Rain". Prince was most recently inspired to write two songs to benefit Hurricane Katrina victims, "S.S.T." and "Brand New Orleans," both of which are available on NPGMusicClub.com.
Click here to buy 'Prince - 3121'
Names In The News Archive