'In Her Shoes' DVD
Find yourself 'In Her Shoes' on DVD!
Friday 10th March 2006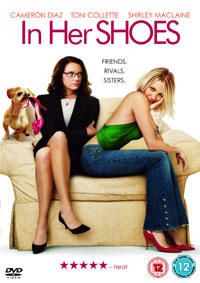 "Thoroughly enjoyable, bittersweet comedy" – Heat
Release date: 13th March 2006
DVD Price (RRP): £19.99
Certificate: 12A
Feature Running Time: 130 mins
Step into the feel-good comedy-drama 'In Her Shoes' on DVD from 13th March 2006 from Twentieth Century Fox Home Entertainment. With highly acclaimed performances from Cameron Diaz and Toni Collette as two wildly different sisters with nothing in common but their shoe-size, 'In Her Shoes' is perfect for anyone who has ever had a relationship that drives them crazy – but they just can't function without!
Rose Feller, (Toni Collette, The Sixth Sense, Muriel's Wedding) has a successful law career, but terribly low self esteem that she covers by treating herself to beautiful pairs of designer shoes. Rose's love-life is on the up for a change – but that is before the whirlwind arrival of her younger sister Maggie (Cameron Diaz, Charlie's Angels, Gangs of New York)!
Maggie may be beautiful, but her looks have led to her own share of problems. Succumbing to the stereotype she is often labelled as, party girl Maggie has lived up to her reputation and her reading difficulties severely limit her career opportunities. Despite Rose's best efforts to help her sister, their old rivalries surface with a vengeance. Maggie is on a downward spiral of bitter self destruction and ruins much more than Rose's favourite pair of shoes…
Following their dramatic falling out, Maggie runs away to Miami in search of her grandmother Ella (Shirley MacLaine, Bewitched, Steel Magnolias) who, after the death of their mother, the girls had thought to be dead. In the lively retirement village where Ella lives, the tough love from her grandmother helps Maggie find the roots and confidence she has always been looking for.
With Maggie out of the picture, Rose leaves her job to give herself time to recover from the fall-out of Maggie's betrayal. Finding solace as a dog-walker, Rose is pursued by another partner from her old firm, whose romantic persistence after Rose's heart pays off. Rose's new life may be perfect in almost every way, yet she finds that life without her sister is anything but complete. Will the two sisters find each other again to help them both find self-appreciation and happiness?
Heart-breaking and hilarious in equal measure, the pull of sisterhood is instantly recognisable for anyone who has ever had a sister or best friend that drives them crazy – but that they just can't live without! The 1-Disc DVD is packed with special features including an alternate opening sequence, Easter Egg and fun featurettes. Directed by Curtis Hanson (LA Confidential, 8 Mile), the emotional performances from a star cast ensure that In Her Shoes on DVD will make you laugh and cry – just like a sister!
DVD Special Features:
Alternate opening sequence
Easter Egg
The People in the Shoes – featurette
A Community for Acting Seniors – featurette
The Casting of Honey Bun - featurette
Click here to buy 'In Her Shoes' on DVD
Names In The News Archive