Daz Sampson - Eurovision 2006
Tuesday 14th March 2006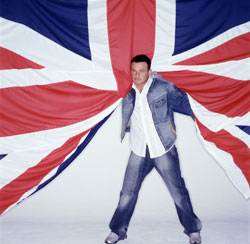 Photo Credit: BBC Picture Publicity
Antony Costa: "Fair play he did well, I wish him the best in Greece"
Kym Marsh: "Daz has a great Eurovision song which ticks all the boxes"
City Chix: "We love Daz, the audience loved him, he had so much fun"
Four Story "He's a great entertainer"
It's official, Daz Sampson will represent Great Britain on May 20th at this year's Eurovision Song Contest in Greece.
In a landslide victory the DJ and rapper beat off stiff competition from Blue's Antony Costa, Hear'Say's Kym Marsh, male vocal group Four Story, girl group City Chix and solo artist Goran Kay to earn the right to compete for the Eurovision crown.
Presented by Terry Wogan, Natasha Kaplinsky with a panel of judges including Jonathan Ross, Fearne Cotton, Kelly Osbourne and Bruno Toniolli, the show went out to the British public live at 6.20pm on Saturday night. Daz's performance of "Teenage Life," which he co-wrote with songwriter John Matthews, earned unanimous applause from a packed studio audience.
"I always believed I was going to win, I knew the British public would back an underdog, it's time for a change. Let's kick some arse in Greece" ……said a delighted Daz, who will be the first rapper to represent the UK at Eurovision since Love City Groove over a decade ago.
Daz is also known as one half of platinum selling dance act Uniting Nations who have already had massive chart success throughout Europe and in particular in Ireland, Scandinavia and throughout Eastern Europe – which should result in favourable voting on May 20th.
The song sees Daz rapping about his school days while teenage girls sing and dance over the catchy chorus. Hit songwriter John Mclaughlin who wrote Busted's 'That's What I Go to School For' was equally impressed. "The song has fantastic appeal and the girls' performance was Eurotastic"
Commenting on Daz's dancers dressed in school uniform Jonathan Ross joked: "Everything was so wrong about the performance that somehow it seemed right"
The voting method for the programme followed the classic Eurovision point system and involved 7 regions around the UK. Each region was represented by a special celebrity guest who announced the votes for their region. Michelle McManus for Scotland, Maggot for Wales, Roy Walker for Northern Ireland, Kelli Young for the North, Rustie Lee for the Midlands, Alistair Appleton for London and Simon Grant for the South West.
The official results were as follows:
Daz Sampson: 121
Antony Costa: 96
City Chix: 55
Kym Marsh 53
Four Story: 17
Goral Kay: 14
The Eurovision Song Contest will be broadcast live and exclusive on BBC One on Saturday May 20th presented by Sir Terry Wogan.
'Teenage Life' will be released on April 17th on Pete Waterman's Eastern Bloc label through Sony BMG
Names In The News Archive