Cyndi Lauper - ' The Body Acoustic'
Thursday 16th March 2006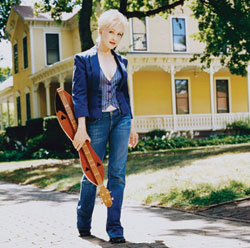 THE GIRL STILL WANTS TO HAVE FUN
The inimitable Cyndi Lauper releases 'The Body Acoustic' on March 20 2006.
The album features duets with amongst others Sarah McLachlan and Jeff Beck singing acoustic versions of Cyndi's hits.
The voice is unforgettable. Some of the songs are familiar.
But everything else about 'The Body Acoustic' is a revelation -- and because we're talking about Cyndi Lauper, that's no surprise at all. Cyndi is, after all, an original. Since her arrival she has stood out from the crowd. Even in the eighties, that decade of gaudy overkill, no one dressed like her, performed like her, and above all sang like her. 'The Body Acoustic' proves that the same is true today. Whether paired with an all-star lineup of guests or singing solo with her band, Cyndi sounds both timeless and contemporary. The title only hints at her direction; the music taps into the essence of each song, classics as well as new material, with the vision and integrity that have always been her hallmark.
From the swampy, backwoods groove of "Money Changes Everything" and striking reconception of "She-Bop" through the shadows of "Water's Edge" and the gospel elevation of "I'll Be Your River," 'The Body Acoustic' is all about emotion, deep and raw. It's about fearlessness, with feeling always taking top priority over polish. It's about America too, in its connection to the roots of modern music. Above all it's about one of the most vital performers of our time, whose commitment to challenging herself and her listeners make her even more rare -- and irreplaceable.
Consider, first, Cyndi's history: She exploded onto the scene in 1984, winning a Grammy for Best New Artist and selling nine million copies of 'She's So Unusual'. That album defined her in vivid, unmistakable ways -- but where most overnight sensations would have taken that as their cue to begin repeating themselves, Cyndi made it her habit to chart new directions. From her follow-up, 'True Colors', through her most recent project, At Last in 2003, she travelled a myriad of avenues as a writer and interpreter of songs. Even so, there's something different in 'The Body Acoustic' -- a feeling that Cyndi is coming home to some fundamental part of her artistry. Which makes this album, even when measured by the standards she has set for herself, a triumph, pure and simple.
The concept for 'The Body Acoustic' took shape onstage, while Cyndi was doing benefits. In part to help keep the sponsor's expenses low at these benefits, she often pared down to an acoustic setting, centered most of the time around the dulcimer on which she played her own accompaniment. It didn't take long for the light bulb to click on. "I was talking with [A&R executive] David Massey," Cyndi explains, "and I realized that I'd never recorded anything like what we were doing live. I wanted to do a really good acoustic recording of 'Time After Time' -- but I didn't want to just make a 'best of' record. So I decided to take a lot of songs that I love, whether they were hits or should have been hits or were new, and put them into this style."
The dulcimer, strange as it may seem, was the heart of this project. She's been playing it for years, ever since she first saw Ruth Gordon in the sweet, dark comedy 'Harold and Maude'. "She had this closet full of instruments, and her character inspired me because she was such a free spirit," Cyndi remembers. "So I always dreamed that maybe I'd have a closet full of instruments. Then I went one day to Alex's Guitars and bought all these things, including a really bad dulcimer. I didn't even know how to tune it, but it sounded beautiful and I started playing." The instrument became invaluable to her writing and performing. "My first band was another girl and me," Cyndi recalls. "She played the meat and potatoes on her guitar, and I played all the droning weird stuff. That's how I worked in all my bands: Whatever nobody else was playing, I played against it. I did the textural things that were always missing. And whenever I felt some other rhythm pulling at me, I played it. That pushing and pulling builds an interior rhythm, and that's the place where I sing."
She wrote much of her repertoire on the dulcimer, even those tunes that saw light of day in settings that had little to do with folk instrumentation. She recorded it as well, but it wasn't until 'The Body Acoustic' that she decided to let it surface within the heart of the arrangement. And from the start she understood that the best way to let this happen was to work with people who knew her music intimately, from the inside.
"[Co-producers] Rick Chertoff, Bill Wittman, and I invented a style of music together," she says, looking back toward their first collaboration on 'She's So Unusual'. "We were a group. We all came from playing in bands, so we knew how to work as a team. I worked well with them as a co-producer; I was there, as opposed to just listening to what they did and saying, 'Yeah, that's great.' And we all like live music. For me, it's exciting to work with a group of musicians, playing and singing with them. That's how we did it on the first album, and that's what we wanted to do with this one too."
Getting the right musicians was critical. The core -- Jamie West-Oram on guitar, Steve Gaboury on keyboards, Allison Cornell on viola and violin, Bill Wittman, Mark Egan on bass, Sammy Merendino on drums -- had already worked extensively with Cyndi. Others joined in on selected tracks: slide guitar virtuoso Kat Dyson, Cyndi's longtime friend and co-writer Rob Hyman, ska-riffing horn players Jim Hines and Tom Malone, among others. They cut most of the tracks live, with Cyndi often playing dulcimer and laying down vocals simultaneously. "I had people in the past telling me, 'Why don't you just sing? What's with the dulcimer?'' she says, laughing. "It was sometimes hard for me to get those old voices out of my head. They almost had me convinced at one point that I couldn't play and sing at the same time without making mistakes. But I could do it. Once I got over that, I was okay."
Everyone, before the first note was played, was clear on the mission too. "I wanted to make 'back porch' music," Cyndi states. "I wanted that feel of people getting together after dinner to sing and play. But I also wanted it to rock out. I didn't want to make an acoustic record that had no energy. The music had to come alive, even if it came down to pounding pots and pans or stamping your feet."
Equally important were the guests that Cyndi invited into the project. "I wanted this to be a celebration," she says. "And if I'm going to celebrate, I'm going to have a party and invite my friends."
It was an A-list soiree. Cyndi's guests included:
* Sarah McLachlan. "I met Sarah at this publishing convention years ago, where we were supposed to schmooze," Cyndi explains. "I'd just written 'Water's Edge,' so I played it for her, and ever since then she's remembered this song. I just love Sarah's work. So I contacted her about singing this song with me, and right away she said yes. She wanted to do "Time After Time." She was so gracious at the session. "Then I played her 'Water's Edge' because she remembered the song, and then offered to sing on that track as well. Her voice is so beautiful."
* Jeff Beck. "Jeff asked me to sing on a blues song he was recording at the time, and then I heard this song he had started called, 'Above The Clouds.' And it was one of the most beautiful things I had ever heard. The lyrics and story came to me immediately listening to the guitar part he had written. There's no guitar other than Jeff."
* Vivian Green. "It's nice to have Vivian singing on 'Sisters of Avalon.' I love her voice and I also love the idea of putting it together with what I do. When I grew up nobody was afraid to mix things up. The Rolling Stones would have Merry Clayton singing with them. You'd hear the Beatles, James Brown, and Sly and the Family Stone, all on one station. I like to keep in that tradition.
* Ani DiFranco. "I asked Ani to sing the harmony with Vivian and then sing a wild track on 'Sisters Of Avalon,' Cyndi says. "That's usually what I do: After you learn the song, you just sing anything that comes to your head, wherever the spirit takes you. The wild track is always the best for me, but I wanted Ani to do this one, and she did this interesting thing which was to juxtaposition to the answer/response I was doing with Vivian. It was so great. Ani DiFranco is a hero of mine. I would love to work with her again."
* Adam Lazzara & George Fullan. "Adam, from Taking Back Sunday, sings on 'Money Changes Everything,'" Cyndi says. "He's in the video too. And it was nice to include George, from 3 Years Older; he's friends with Adam, and he also sang on my 'Shine' CD [2004]. It was fun to work with guys who play in rock bands; they both did a killer job."
* Shaggy. "When I first saw Shaggy perform, I knew he was fantastic. And when I first recorded 'All Through The Night,' I kept hearing him. I knew he would be great rapping on it, Cyndi insists." "There were so many late nights when I was driving home in my jeep from the studio listening to the mixes, and whenever I would listen to what he did on 'All Through The Night,' even if I was tired it always brought a smile to my face.
* Puffy Ami Yumi. "It was so much fun to do 'Girls Just Want to Have Fun' this way," Cyndi says. "To be honest with you, we recorded this for the Japanese release; we weren't planning to put this version on the American album. But it was so much fun that we decided to use it. And so what? American music is a combination of all kinds of music, by people who are looking for freedom.
For all the diversity everyone brought to this party, 'The Body Acoustic' is a remarkably cohesive accomplishment. Two things tie it together: Cyndi's unmistakable sound, of course, and her search for the common ground on which her varied explorations are based. What she found, and what we can hear throughout these performances, is that this foundation has endured -- yet it is changing as Cyndi's artistry continues to evolve.
"We're living in a different time than we used to," she says. "You don't wear the clothes you had on a long time ago. You don't wear your hair the same. You don't feel the same. Through all these years, everything I've done has come from the spirit. That's good, as long as you stay true to the bone. You want to keep the joy in your work alive. You put in the culture that surrounds you, as much as possible, to create a real American music that everyone in the world can enjoy because people from throughout the world have all come here. That's what I do when I'm onstage, and that is what we captured, all of us, on 'The Body Acoustic'."
Click here to buy 'Cyndi Lauper - The Body Acoustic'
Names In The News Archive