'Green Wing' - Series 1 DVD
Wednesday 29th March 2006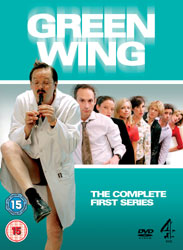 AVAILABLE ON DVD FROM 3RD APRIL 2006
The must have comedy DVD this Easter!
"A comedy as physically adroit as it was verbally sharp" Evening Standard
"The most original, the silliest and the funniest thing on for ages" The Guardian
"Fantastically funny hospital-based comedy" Daily Star

Prepare yourself for a surreal ride through the hospital corridors of 'Green Wing' …
For the first time ever, the BAFTA award-winning Channel 4 comedy show 'Green Wing' is released on DVD. Available from Monday 3rd April 2006, the complete 'Green Wing' Series 1 features all nine episodes plus 40 minutes of exclusive DVD extras.

This genre-defying comedy is part surreal soap, part comedy drama and proves that filming in a hospital doesn't have to involve any reference to medical issues.
'Green Wing' follows new surgical registrar Dr Caroline Todd (Tamsin Greig) through her first day at work and beyond, starting out as she means to go on - dishevelled and under-deodorised having spent the night in her car.
Along the way she meets an assortment of bizarre and demented characters including; Guy Secretan (Stephen Mangan), the smooth talking part-Swiss anaesthetist and all-round misogynist; Dr. Alan Statham (Mark Heap), one of the kinkiest doctors on the ward, a stammering eccentric radiologist who has powerful sexual feelings for Joanna Clore (Pippa Heywood) the moody age-obsessed HR Director. Then there's the high flying but effortlessly cool, Dr. 'Mac' MaCartney (Julian Rhind-Tutt), whom Caroline may or may not have a big-time crush on; the sociopathic staff relations counsellor Sue White (Michelle Gomez); hapless junior doctor Martin Dear (Karl Theobald) and the irritatingly perfect Dr. Angela Hunter (Sarah Alexander).
'Green Wing' Series 1 contains over 40 minutes of unseen special features which include; cast and crew audio-commentaries, deleted scenes, the making of Green Wing featurette and cast/crew biographies.
Devised and produced by Victoria Pile, the show stars Tamsin Greig (Black Books, The Archers), Julian Rhind-Tutt (The Madness of King George, Notting Hill), Mark Heap (Brass Eye, Spaced, Big Train, Happiness), Stephen Mangan (I'm Alan Partridge, Adrian Mole – The Cappuccino Years), Pippa Haywood (The Brittas Empire, Dalziel and Pascoe), Sarah Alexander (Coupling, Smack the Pony), Karl Theobald (Chef) and Michelle Gomez (The Book Group).
Expect more brilliantly-observed sophisticated mayhem when the eagerly awaited Green Wing Series 2 lands on Channel 4 late March 2006.
Click here to buy 'Green Wing' Series 1 on DVD
Names In The News Archive