Katherine Jenkins - Charity Print
Thursday 30th March 2006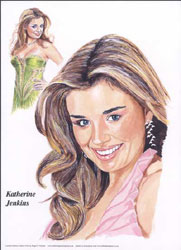 Signed by Artist, Limited Edition Print of Katherine Jenkins, Classical artist and Forces sweetheart.
Katherine has kindly allowed her image to be used to raise funds for CHILDLINE Cymru / Wales www.childline.org.uk
It seems like barely last week when Katherine Jenkins first burst into the public eye, but already she has established herself as one of the biggest names in classical music with her albums Premiere and Second Nature. Now she's ready to deliver the third one, and since Second Nature monopolised the number one spot for almost nine months and won her a Classical Brit award for Album of the Year, expectations are running high.
"I always say 'touch wood' whenever anybody makes predictions like that," says Katherine, "but I do feel as if I'm living a blessed life at the moment. I've been thinking about the phrase 'living a dream', because that's exactly what is happening. I'm just trying to go with the flow and take each day as it comes, otherwise I might freak out at all the things that have happened recently."
No major event is complete without an appearance by Katherine Jenkins. She sang at the VE Day celebration in Trafalgar Square last May, and appeared at the Live8 concerts in both Berlin and London. "When I walked onstage in Berlin, there were 250,000 people going right up to the Brandenburg Gate," she recalls. "They stretched so far I couldn't see where the crowd ended. Then I sang an acapella version of Amazing Grace, and the crowd went absolutely quiet."
Then she was booked to fly to Edinburgh to sing at the G8 concert at Murrayfield, but somebody had overlooked the fact that she was due to perform at Newmarket race course earlier the same day. No problem – with the aid of a private jet, a Rolls-Royce and a helicopter, she was able to squeeze in both events, finally strolling calmly onstage at Murrayfield for her 9pm slot after being whizzed through the Edinburgh streets by a police escort. "There I was, perfectly calm! It was brilliant. Never in my wildest dreams did I think I would have a day like that."
Other highlights of an extraordinary year have included an invitation to Chequers from Cherie Blair to sing on behalf of a breast cancer charity ("it was so funny to see Cherie and Michael Parkinson all singing along to 'We'll Meet Again'"), and a private lunch with the Queen. It has been an astounding journey for the Welsh Choirgirl of the Year who grew up in a council house in Neath. Barely a couple of years ago she was still working as a freelance singing teacher in Hertfordshire to fund her postgraduate studies in opera, having gained an Honours degree at London's Royal Academy of Music. She boosted her earnings as a hair and make-up model, and the combination of her wildly photogenic appearance and naturally sociable personality has been priceless in helping her win over an ever-expanding audience.
But she understands that above all it's the music which drives her career. For her new album, Katherine was determined to make sure there wasn't a semiquaver out of place. That meant not only choosing the pieces, but acting as co-producer too.
"It means overseeing the making of the album from beginning to end, working on the arrangements, and deciding how we want the album to sound," she explains. "I went to Prague, where we recorded the orchestral parts, I oversaw the vocal production, and I've been involved in the mixing and mastering as well. I'm very much a perfectionist, and I can't stand it if there's even the slightest thing I don't think is right."
The musical selections cover show-tunes, Welsh songs and famous classical arias, though not always as listeners might know them. "I've done a version of 'Nessun Dorma', which I performed for the first time at the G8 concert. It's such a strong emotional piece and a great tune, and it worked just as well for a female voice. And I've also done 'Music Of The Night' from 'Phantom Of The Opera', which makes me one of the first females to sing it. I think it's a bit unfair that men get all the best tunes in opera and classical music!"
She was guided in many of her choices by requests from fans, who were eager to hear 'One Fine Day' from Puccini's 'Madame Butterfly' and the aria Ebben? Ne andro lontana from Catalani's opera La Wally (a favourite of her idol, Maria Callas). There's a Welsh folk song featuring harpist Catrin Finch, a new arrangement of Ennio Morricone's theme from the movie 'Cinema Paradiso', and the trusty old standards 'We'll Meet Again' and 'Over The Rainbow'.
Likely to prove one of the disc's blockbuster tracks is her "classicalised" version of 'I Will Always Love You', a global mega-smash for Whitney Houston, though written by Dolly Parton. "I love Whitney Houston and I love that song," Katherine gushes. "I could really hear it as a classical piece, so I had an orchestral accompaniment put to it and I translated it into Italian. Dolly Parton has never allowed anyone to sing it in a foreign language before, so it's a great honour for me."
Might it all go to her head? "My mum would go absolutely mad if she thought I was getting above my station," Katherine protests. "It would devastate me if I ever went back home and couldn't relate to my family. I don't take all this for granted, that's for sure."
Names In The News Archive