Madonna - The Confessions Tour
Tuesday 11th April 2006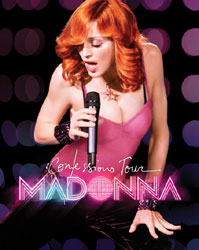 7 Wembley Arena Shows Sold in 24 Hours
Due to phenomenal public demand, the London dates for Madonna's Confessions World Tour have sold-out in a record-breaking 24 hours, since going on sale Friday morning at 9am.
The eagerly anticipated tour, her first since 2004's Re-Invention, will now feature 7 shows at Wembley Arena and her first ever performance in Wales on July 30th. Originally, only 2 dates were scheduled for London, but demand was so intense that five extra dates were added the same day.
The full list of UK dates is now:
CARDIFF
July 30th - Millennium Stadium
Tickets for Cardiff go on sale later this month
LONDON
August 1st/3rd/9th/10th/12th/13th/15th - Wembley Arena
Directed by longtime Madonna collaborator Jamie King with Stuart Price on board as Musical Director, it will also feature costume design by Arianne Phillips and Jean Paul Gaultier.
Madonna's highly acclaimed 2001 Drowned World tour included several sold out nights at Earls Court, while 2004's Re-Invention tour featured two shows at Earl's Court and four at Wembley Arena. Now, the Confessions World Tour is repeating that success.
Click here to buy 'Madonna - Confessions On A Dance Floor'
Names In The News Archive