Damian 'JR Gong' Marley - 'Beautiful' video
Wednesday 19th April 2006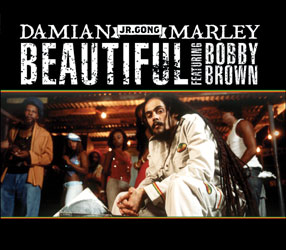 Click here to watch the video for 'Beautiful'
"This is the song of the year. I would trade any song off my album for this." Kanye West speaking about Damian Marley's "Welcome To Jamrock"

"The first Marley to properly emerge from the Tuff Gong's shadow takes reggae back where it belongs: the top of the charts" MOJO
"Finally Bob Marley has a successor of his own blood. A landmark album"
Evening Standard
"Damian Marley is raw talent: rather than rely on his father' s legacy., he updates it.. his music is effortlessly real" Zane Lowe
Damian 'JR. Gong' Marley, whose massive hit single "Welcome To Jamrock" stole the show at the MOBO Awards where he won the Best Reggae Artist category, has his brand new single "Beautiful" released on April 17th through Tuff Gong/Universal/Island Records. The single is taken from the universally acclaimed Gold-selling album "Welcome To Jamrock". Junior Gong recently made history at this year's Grammy Awards where he picked up two Grammys, making him the first Jamaican artist to ever win two of the coveted awards in one year.
Damian has just completed his own sell-out US tour as well as a coast to coast tour of the States as special guest of U2.
"Welcome To Jamrock", the follow-up to Damian's Grammy–winning "Halfway Tree" album, is fast approaching Gold status in the UK and features collaborations with among others brother Stephen Marley, Bounty Killer, Eek-A-Mouse, Nas, Black Thought from The Roots and Bobby Brown. Produced by Damian, together with brother Stephen, and released on Tuff Gong/Ghetto Youths/Universal Records, "Welcome To Jamrock" features 14 tracks including "Confrontation", "The Master Has Come Back", "Pimpa's Paradise", "For The Babies", "Road To Zion" and the title track, which includes a sample from Ini Kamoze's "World A Music".
Damian Robert Nesta Marley a.k.a. "JR. Gong", was born in Kingston, Jamaica on July 21st, 1978, the son of Bob Marley and Jamaica's 1977 Miss World Cindy Breakspeare. Damian began performing as a child as the vocalist for a group called The Shepherds. The group was comprised of other well-known reggae artist's children including Shiah Coore (son of Third World guitarist Cat Coore) and Yashema Beth McGregor, the daughter of Freddie McGregor and Judy Mowatt. After The Shepherd's disbanded Damian turned his vocal talents to deejaying (the Jamaican equivalent of rapping). In 1993, his debut single "Deejay Degree" was released on Tuff Gong Records, the label founded by his father.
In 1995 Damian recorded the track"School Controversy" for the "Positively Reggae" compilation, the proceeds from which went to Jamaica's Leaf of Life Foundation, an organization which assists children who are HIV positive. Although he was still a teenager, Damian was selected as the "Positively Reggae" spokesperson.
Damian was a high school student when he began recording his debut album "Mr. Marley". Produced by Stephen Marley the album delivered a fusion of contemporary Reggae grooves and infectious dancehall rhythms alongside tough edged hip-hop beats, an ideal complement for Damian's versatile deejay-rap style.
In the five years following "Mr. Marley's" release, Damian matured as a performer, songwriter, recording artist and Rastafarian, his unwavering convictions reflected throughout his second album "Halfway Tree" again produced by Stephen. The album won Damian a Grammy and included contributions from original Wailer, Bunny Wailer, Jamaican Deejay Bounty Killer, Eve, and the world's greatest rhythm section Sly Dunbar and Robbie Shakespeare. The album also helped further establish Damian as an artist in his own right, with his own bold musical identity, and saw him updating the Marley musical legacy for the 21st century. With the release of "Welcome To Jamrock" Damian Jr. Gong Marley looks set to take that legacy to the next level.
Click here to watch the video for 'Beautiful'
Names In The News Archive