Embrace - Official World Cup Song, 'World At Your Feet'
Friday 21st April 2006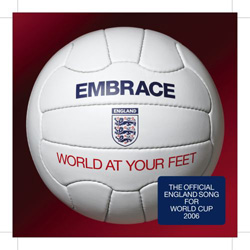 Released on Independiente on June 5th 2006
Embrace, the FA's choice for this year's official World Cup song, will release 'World At Your Feet', on Independiente Records on June 5th.
The British public got their first opportunity to hear the song this morning – Friday April 21st – when it was unveiled on Radio One's Chris Moyles breakfast show shortly after 8am. A lucky few were given a sneak preview of the song last night at Moyle's local pub in North London. Embrace vocalist Danny McNamara, who was out for the evening with Embrace fan Moyles, treated pub locals to an exclusive play of 'World At Your Feet', which was met with a rousing reception from all those present.
Whilst Danny admits writing the song has been a massive challenge, he hopes it will live up to expectations. " We think we've got a really great song in 'World At Your Feet' and with luck it'll capture the nations mood as well as New Order's 'World In Motion'. It was a real honour to be asked and I hope we've delivered".
Embrace were announced as the FA's choice just three weeks ago in a week that saw their latest album 'This New Day', the follow up to their double platinum selling album 'Out Of Nothing', hit the No. 1 in the UK album chart.

'World At Your Feet' will be available as 2 cds and 7" single with details of additional tracks to be announced shortly.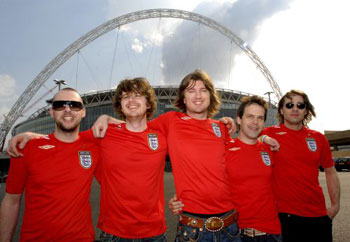 Click here to download the Embrace media player which allows you to listen to 'World At Your Feet' and view other Embrace music videos.
Please note this requires the latest Quicktime Mediaplayer to view.
To watch the video choose your preference below:
Click here to buy 'Embrace - World At Your Feet'
Names In The News Archive