'What Not To Wear' Unveil's New Presenters
Monday 24th April 2006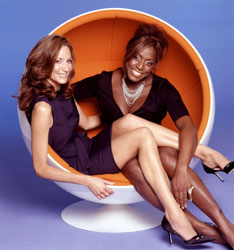 Supermodel Lisa Butcher and soul singer Mica Paris are lined up to present the next series of BBC ONE's 'What Not To Wear', due to air later this year.
The new duo promises to bring a fresh and vibrant feel to the series. They have a huge amount of experience working on their own styles and know how important image is in people's everyday lives. They have also been best friends for many years.
Lisa Butcher said: "I have always been passionate about clothes and having worked as a model all my life, I've learnt so much. 'What Not To Wear' gives me the chance to pass on that knowledge to others.
"Of course, working with my close friend Mica is the icing on the cake. We've been advising each other on every aspect of our lives for the last eight years."
Mica Paris added: "Being given the opportunity to help women and men look and feel great about themselves is for me the most rewarding experience.
"Because of my career I had to learn about style and image early. The clothes you wear are a statement about you.
"What interests me is exploring the way people feel about themselves underneath, and that's what 'What Not To Wear' is all about for me."
The girls have a lot in common: both hit the big-time whilst still in their teens and both have balanced their careers with being single mothers.
Each has a strong and individual style. The life experiences they bring to the series mean they can offer not only direct advice with wit and charm, but they can also empathise with the women who undergo the 'What Not To Wear' journey.
Executive Producers, Vicki Barrass and Tracy Jeune said: "We're very excited about this duo.
"Lisa brings an enthusiasm and knowledge about style; she's modelled both designer and high street clothes, and she's very down-to-earth.
"Whilst Mica's career has meant she's had to grasp the importance of image, and she's developed an intuitive understanding of what your clothes say about you.
"They will bring a fresh perspective to 'What Not To Wear'."
The highly successful and award-winning series keeps favourite devices – such as the infamous 360 degree mirror in which 'What Not To Wear' contributors see their bodies reflected in the round – and delves even deeper into understanding how the way a person looks can change how they feel about themselves.
'What Not To Wear' returns to BBC ONE later this year.
Names In The News Archive