Red Hot Chili Peppers - 'Stadium Arcadium'
Tuesday 2nd May 2006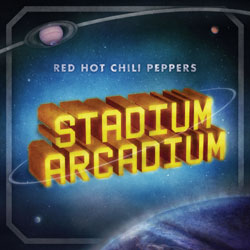 Double album 'Stadium Arcadium' set for release on May 8th
The Red Hot Chili Peppers will unleash a two-CD set, 'Stadium Arcadium', on May 8th on Warner Bros. Records. 'Stadium Arcadium' will be a 28 track double album with discs entitled 'Jupiter' and 'Mars'.
The band – Anthony Kiedis, Flea, John Frusciante and Chad Smith – entered the studio last March with producer Rick Rubin (Beastie Boys, System Of A Down) to commence work upon the album in the same house in the Hollywood Hills where they recorded 1991's groundbreaking, multi-platinum album 'BloodSugarSexMagik'.

"We set out to write 13 songs," says Kiedis. "But as has been the case every time we've tried to do that, we ended up with 30-some-odd songs. The difference this time was we ended up liking all of those songs and finishing all of those songs, and it actually became a very difficult process to even whittle it down to 28."

"Every album we do, we try to have a concept and a sense of direction," Frusciante explains. "The most important idea for this album was movement." Smith elaborates, "Something new is constantly being introduced, in every chorus or verse, whether it's a backing vocal or a guitar part, a different rhythm or an unexpected style."

"The chemistry was in better order than in a long time," Kiedis told Spin earlier this year. "Everyone is frighteningly happy at the moment." Although he says he's again exploring "the dark and nefarious side of Los Angeles" in his lyrics, he clarifies, "but not in a judgmental sense," venturing, "It's all about the joy of dysfunction."

The 'Jupiter' CD track listing comprises: 'Dani California', 'Snow (Hey Oh)', 'Charlie', 'Stadium Arcadium', 'Hump de Bump', 'She's Only 18', 'Slow Cheetah', 'Torture Me', 'Strip My Mind', 'Especially in Michigan', 'Warlocks', 'C'mon Girl', 'Wet Sand' and 'Hey'.

The 'Mars' disc features: 'Desecration Smile', 'Tell Me Baby', 'Hard to Concentrate', '21st Century', 'She Looks to Me', 'Readymade', 'If', 'Make You Feel Better', 'Animal Bar', 'So Much I', 'Storm in a Teacup', 'We Believe', 'Turn It Again' and 'Death of a Martian'.

'Stadium Arcadium' will also be available in a limited-edition black box that includes the 28-song, two-CD set, plus a DVD with the 'Dani California' video and behind-the-scenes "making of the video" footage; a one-hour band interview; a 28-page booklet; original artwork by the band; and "special space-age discoveries."

Kiedis says of the double album's title: "I hope it means something different to everyone, but to me, in the chorus of the song 'Stadium Arcadium', I get the feeling of being off in the wilderness with a large group of people creating a huge light, playing music for those people and reflecting the love that's going on between us and them."

"I think we're aware that we're all vehicles of something much bigger than ourselves," Flea allows. "And we also know it's up to us to do the footwork to get in a position to receive all this energy flying around. Spirituality can be a pretty vague term, but each of us in our own way is interested in looking beyond what's directly in front of our face."

'Stadium Arcadium' is the ninth album from the Chili Peppers and the first since 2002's 'By The Way', which sold more 1.6-million copies in the UK alone. All told, the band has sold more than 50 million albums and enjoyed UK Top 20 success with nine singles.
Click here to buy 'Red Hot Chili Peppers - Stadium Arcadium'
Names In The News Archive