LL Cool J - 'Control Myself'
Monday May 8th 2006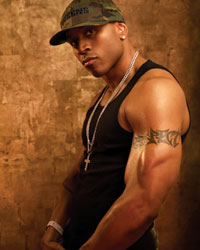 THE LEGEND RETURNS WITH HIS 12TH ALBUM & A NEW SINGLE WITH JENNIFER LOPEZ
Album: 'Todd Smith' – 10th April 2006 Single: 'Control Myself' – 8th May 2006
In 2006, LL Cool J returns with his 12th album for Def Jam… 'Todd Smith'. Set for release on the 10th April 2006 it is over 20 years since he first burst into the rap game and his latest set shows he is still at the top.
'Todd Smith' was mostly recorded in Miami and New York with beats from some of the finest such as The Neptunes, Jermaine Dupri, Scott Storch and Trackmasters. LL Cool J's 12th album features 12 tracks and 12 stars including Mary J Blige on the sublime 'Favorite Flavor' and Juelz Santana on the blistering opener 'It's LL and Santana'. Other guests on the album include Ginuwine, Jamie Foxx and Freeway.
The first single from 'Todd Smith' is the undeniable smash 'Control Myself' which features the multi-platinum and multi-talented superstar, Jennifer Lopez. Produced by Jermaine Dupri, the bass driven track is already a smash at radio and tearing up the clubs. The video for 'Control Myself' was filmed over 3 days in New York City and Atlanta by acclaimed director, Hype Williams. 'Control Myself' is released by Def Jam on the 8th May.
The UK version of the album includes two exclusive bonus tracks. There is the LL Cool J mix of the UK #1 'So Sick' by Ne*Yo and the Jason Nevins remix of 'Control Myself'.
Recently, LL Cool J took a starring turn in the Paramount Picture comedy, 'Last Holiday'. This autumn he will launch two signature clothing lines, the high end line; Todd Smith and the active wear line; TS.
Click here to watch the video for 'Control Myself'
Names In The News Archive