'The Weather Man' on DVD
Friday 12th May 2006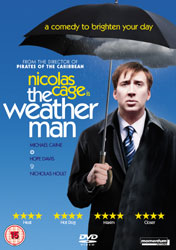 BRING AN UMBRELLA!
Rental Release Date: 3rd July 2006
Retail Release Date: 17 July 2006 RRP: £17.99
Certificate: 15 Running Time: 98 mins approx
**** Heat
**** Sunday Mirror
**** Closer
"Thoroughly entertaining"**** Hotdog
"Enjoyable and refreshing"**** Maxim
"Nicolas Cage delivers one of his best turns" GQ
The outlook is looking decidedly sunny for Momentum Pictures with the 17 July 2006 retail release of the hugely enjoyable 'The Weather Man'. Starring Academy Award®-winners Nicolas Cage ('Lord of War', 'National Treasure') and Michael Caine ('Batman Begins', 'Cider House Rules'), 'The Weather Man' from acclaimed director Gore Verbinski ('Pirates of the Caribbean', 'The Ring', 'The Mexican').
The hotly-anticipated new comedy guaranteed to brighten your day, 'The Weather Man' also stars Hope Davis ('About Schmidt', 'The Matador') and Nicholas Hoult ('About A Boy'), and tells the story of a Chicago forecaster who has a curious love-hate relationship with his audience, as well as his family. Demonstrating to perfection Cage's versatility as an actor, 'The Weather Man' also features shining performances from all cast members and, coupled with deft direction and a stunning visual style, a bright forecast is on the cards for this gem of a movie.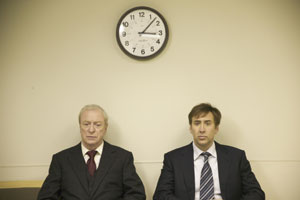 Synopsis
Meet Dave Spritz, Chicago's most popular weatherman and minor celebrity. Professionally he's on top of the world but his personal life is in disarray. Failing father of two and frustrated son of a famous writer, Spritz is poised on a knife edge between stability and disaster. Faced with the chance of hitting the big time in New York he embarks on a soul-searching mission to reunite his family, but the more he tries to take control, the more he finds that life, like the weather, is completely unpredictable.

DVD Extras:
The Making of The Weather Man (Extended Outlook: The Script / Forecasts: Becoming a Weather Man / Atmospheric Pressure: The Style & Palette / Relative Humidity: The Characters / Trade Winds: The Collaboration) Trailer
To watch 'The Weather Man' trailer, please choose your preference below:
Click here to buy 'The Weather Man' on DVD
Names In The News Archive