Mariah Carey - 'Say Somethin'
Tuesday 16th May 2006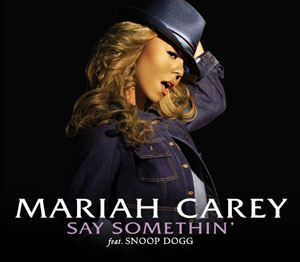 Released June 5th 2006
International superstar Mariah Carey releases her new single 'Say Somethin' in the UK on June 5th. Featuring the explosive talents of rapper Snoop Dogg and the unmistakable voice of Pharrell Williams, this latest release looks set to continue the success achieved by her previous singles.
'Say Somethin' is a captivating mix of smooth rolling beats and Mariah's trademark sultry vocals, offset by Snoop Dogg and Pharrell and beautifully produced by the kings of all things cool, the Neptunes – making the song destined to be the smash hit of the summer.

Backed by an instrumental version of the track, 'Say Somethin' is the 5th single to be taken from Mariah's critically acclaimed album 'The Emancipation of Mimi' which has to date achieved 9x platinum status and become Mariah's most successful studio album in the UK since her bestselling album, 'Daydream'.
The singer-songwriter's outstanding success has continued in 2006. Having been awarded 3 Grammys to add to her dazzling array of awards, her most recent was at the 20th annual Soul Train Music Awards, where she was the top female winner taking home a handful of trophies.
Following Mariah's 17th No. 1 hit on the Billboard Hot 100, 'Don't Forget About Us', it now places her on equal footing with Elvis Presley's own record of 17 No. 1s. Mariah is the only active recording artist in the 47 years of the Hot 100 (which began in 1958) with the potential to match or surpass the Beatles' all-time high of 20 #1 hits. In its 47th week on the Billboard 200 Albums chart, 'The Emancipation of Mimi' sold more than 9 million copies worldwide, bringing Mariah's international career sales to a total of over 160 million units.
Say Somethin' will be released in the UK on June 5th On Mercury Def Jam
Click here to watch the video for 'Say Somethin' by Mariah Carey featuring Pharrell and Snoop Dogg.
Click here to buy 'Mariah Carey - The Emancipation of Mimi: Ultra Platinum Edition'
Names In The News Archive