Gomez - 'Girlshapedlovedrug'
Thursday 18th May 2006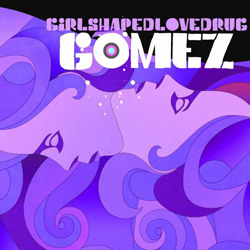 New Single Released May 29th
The LP 'How We Operate' Released June 5th
Celebrating their tenth anniversary this year with a 9-date UK tour and a series of festival dates, Gomez return on May 29th with 'Girlshapedlovedrug' - the poptastic first single from their fifth studio album 'How We Operate', released on Independiente Records, June 5th.
One of the many highlights from the forthcoming LP, the new single is a carefree, summery tour de force for the British quintet and was co-written by the band - Ian Ball (lead vocals, guitar), Ben Ottewell (vocals, guitar) Tom Gray (vocals, guitar, keyboard) Paul Blackburn (bass) and Olly Peacock (drums).
Both the single and the LP were produced by Gil Norton, the band's first outside producer, whose previous credits include The Pixies and The Foo Fighters. "I've been a crazy, huge Pixies fan my entire life, since I was thirteen," says guitarist Tom Gray, and over a shared love of Everton football club, the new, revived sound of Gomez was born.
"The last album was pretty rocking, and reflected the live show a lot" says guitarist Ben Ottewell. "With this one, we wanted to focus on songs, melodies and words, rather than volume."
Fresh from a US tour, Gomez will play nine UK dates this summer including a show at London's Shepherd's Bush Empire on June 14th, plus a number of festivals including V, Scotland's T in the Park and Ireland's Oxegen.
The full list of dates is:
June
5th BRISTOL, Academy
6th WOLVERHAMPTON, Wulfrun Hall
7th LIVERPOOL, Academy
8th MANCHESTER, Ritz Ballroom
9th LEEDS, Metro Uni
11th GLASGOW, ABC
12th NEWCASTLE, Academy
13th SHEFFIELD, Leadmill
14th LONDON, Shepherd's Bush Empire
Choose your preference below to watch the video for 'Girlshapedlovedrug':
Click here to buy 'Gomez - How We Operate'
Names In The News Archive