Carry On London
Friday 19th May 2006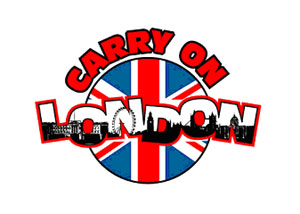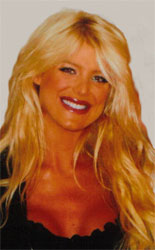 VICTORIA SILVSTEDT...to play Katherine Yelland a.k.a "KY" in new movie 'Carry On London'
Photo credit: Ali Velettin E: kardash@blueyonder.co.uk
CARRY ON IS BACK… AND IT'S CAPITAL FUN!
Britain's biggest hit film comedy export buffs up its helmet for another riotous outing
LONDON. CARRY ON is back – with 'Carry On London'! UK film company Intandem Films and Brit producer Chris Chrisafis are re-launching the franchise with an all new star cast for the feature film which will be shot in and around the capital this summer.
Led by director Peter Richardson, best known for the successful TV comedy project 'The Comic Strip Presents…', the film will be steeped in saucy humour, larger than life characters and riotous slapstick. No Carry On film would be complete without its array of colourful characters and this is no exception. 'Carry On London' introduces the likes of scoundrel and magazine publisher Sir Desmond Uppingham Knightly, LA film boss I. P. Freely and London nightclub owner and gangster Tony Le Berc (a.k.a two fingers Tony).
Already confirmed to take the lead is Shane Richie ('Eastenders', 'French & Saunders' and Dreamwork's animation 'Flushed Away'). Richie is joined by Vinnie Jones ('Lock Stock and Two Smoking Barrels', 'Snatch', 'X3', 'The Riddle'). Swedish blonde bombshell Victoria Silvstedt (Maxim Woman of the Year, Miss Sweden, Playmate of the Year, star of 'Boat Trip' opposite Cuba Gooding, Jr. and Roger Moore) is also confirmed with more top comedy talent from both sides of the Atlantic currently signing up.
Shane Richie says, "Like many people I grew up with the Carry On movies and was thrilled to be asked to star in the new film," said Shane. "The original films, packed with double entendres and hilarious comedy, kept us all laughing for over thirty years, so it's a great honour not only to be asked to be part of the new film but also to be carrying on a wonderful tradition. I'm really looking forward to it, Matron!"
Vinnie Jones says, "It's great to be part of such a wonderful comedy tradition. It really kept me laughing through my youth so it's great news that I'm part of that tradition and able to introduce it to my own kids."
'Carry On London' follows Lenny's Limos who are hired to take celebrities to a new film awards ceremony. In true Carry On style, the scenario descends into mayhem and double entendres as gangsters, starlets and three hapless drivers career through London's famous West End in top of the range limos.
'Carry On London' is to be produced by filmmaker Chris Chrisafis ('Where The Truth Lies', 'Reign of Fire', 'The Count of Monte Cristo') and in association with Peter Rogers, Carry On's legendary creator and producer of all 31 Carry On films. Intandem Films is executive producers along with Peter Rogers, Brian Baker and Nigel Gordon-Stewart. The screenplay has been written by Peter Richardson with Peter Richens, Paul Minett and Brian Levenson.
Gary Smith, CEO of Intandem Films which is handling world-wide distribution, is keen to re-launch the Carry On brand as an international franchise and create a new generation of Carry On film fans.
"Carry On is such a successful and powerful franchise," says Smith. "We believe that this film will certainly please the faithful fans but also appeal to a young new audience unfamiliar with the legacy of Carry On who simply want to be entertained by a laugh-out-loud quality comedy."
Director Peter Richardson says, "Fans of the Carry On film around the world should be thrilled that this great British institution is returning in all its glorious vulgarity and will feature Britain's best comic actors who are standing by to camp it up for all their worth. I am proud to be involved in such a politically incorrect and extremely funny film."
'Carry On London's' producer Chris Chrisafis says, "Strong casting is essential for 'Carry On London', so we're delighted to have renowned casting director John Hubbard on board to pull together a great line-up of established names alongside emerging talent."
Carry On creator and executive producer Peter Rogers, ''Here we go again. I could say this is where I came in but, in fact, it's where I intend to go with a new team of players who, I hope, will take the place of the one we lost''
The film will be shot in and around the capital and at Pinewood Shepperton Film Studios this summer.
Victoria Silvstedt's appearance in 'Carry On London' was brokered by UPFRONT Managing Director Richard Brecker.
Names In The News Archive