David Beckham: A Footballer's Story
Monday 22nd May 2006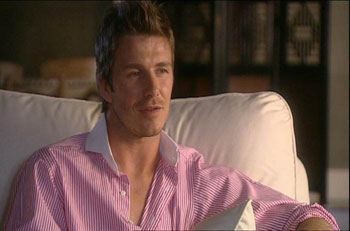 Tuesday 23rd May at 9pm on ITV1
2006 is a massive year for David Beckham. He has the chance, as captain, to lead England to World Cup glory in Germany. In the build up to the tournament that could mark the pinnacle of his career, Beckham talks to former UPFRONT researcher Tim Lovejoy in an exclusive documentary for ITV1 on his extraordinary journey to the top.
Beckham looks back on his life, explaining how the skinny boy from Leytonstone grew up to become one of the world's most idolised footballers, and discusses how it feels to be perceived as one of the true greats of football. He picks out the games, goals, events and characters that shaped his career and transformed him into the international football superstar he is today.
ITV's cameras follow David as he prepares for the biggest summer of his career, training with Real Madrid, practising his legendry free kicks, playing against Arsenal in the Champions League and facing the media at England football team's press conferences.
Beckham looks ahead, revealing some of his ambitions for the future. One already in motion is his new pride and joy: the David Beckham Academy. A key part of his football legacy, David gives a personal tour of these state of the art coaching facilities in London which he hopes will give something back to the game which has given so much to him.
Friends, family and colleagues of Beckham share their thoughts on the man who is now an iconic figure of our modern sporting era.
Posing the questions throughout the documentary will be football expert and presenter of hit TV show Soccer AM, Tim Lovejoy. Tim delivers a unique insight into Beckham's life, reflecting on the highs and lows of his career.
From the honour of taking on the England captainship for the first time, to his feelings following his controversial sending off during the '98 World Cup, Beckham talks candidly about the pressures and privileges involved in being David Beckham.
'David Beckham: A Footballer's Story' is an intimate portrait of one of England's best known and most celebrated football ambassadors, in his own words.
'David Beckham: A Footballer's Story' is a Century films and 19 entertainment production for ITV1.
Names In The News Archive