Lordi - Eurovision Song Contest Winner 2006
Tuesday May 23rd 2006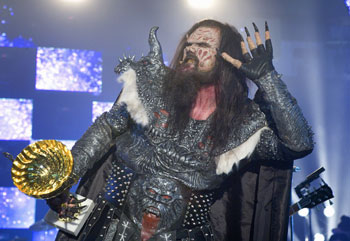 Eurovision Song Contest winning monsters release 'Hard Rock Hallelujah' 06.06.06
and announce a triumphant return to the Download Festival on June 11th
Lordi the melodic monsters from Finland are set to bring the arockalypse one step closer when they release their Eurovision winning song 'Hard Rock Hallelujah' in the UK through SonyBMG on 06.06.06.
The band originally hails from arctic Lapland, but they are far from being Santa's little helpers. Instead they have dished out lashings of power rock and monster inspired music from their subterranean lair over a trilogy of gruesome albums since 2002.
Now, to add to their fiendish accolades Lordi have snatched the winners title at Eurovision with a landslide victory - they actually received more votes than any other entry in the entire history of the competition. The highest Finland have previously come in The Eurovision is 6th, and that was over 30 years ago! It was clear that a new vision was needed, something different - You couldn't really get much more different than Lordi.
Before they head back to their lair to create more magical moments of glorious rock alchemy, Lordi will grace the UK with their evil presence at the world famous Download Festival at the traditional home of Rock, Donnington. They play the Gibson Guitar/MySpace.com Stage on Sunday June 11th. Ignore these monsters at your peril.
Lordi release the simply stunning 'Hard Rock Hallelujah' in the UK on the 6th of June through SonyBMG.
As Mr Lordi himself says, 'Could you love a monsterman?' - If you think you can please call…
Names In The News Archive