Diesel - Bond Street Store Launch
Wednesday 24th May 2006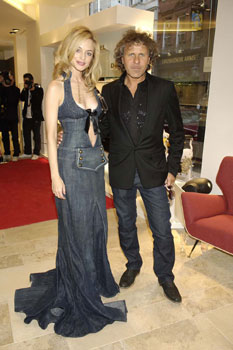 RENZO ROSSO & DIESEL
TO CELEBRATE THE OPENING OF THE DIESEL BOND STREET STORE
Launch: Wednesday 17th May 06
DIESEL is very proud to announce the opening of the most significant flagship store of 2006.
Situated in the heart of London's most premium of shopping streets, the Bond St store is acutely positioned on the corner of Bond and Grosvenor Street.
The Bond Street concept is the latest development from Diesel's in house design team. Situated over 550 square feet covering 2 floors, the store houses all of the Diesel collections. A particular emphasis has been made to accessory collections, whilst the first floor will home the female and male fashion and denim collections, including catwalk pieces that are exclusive to Bond St. The store will also stock the new jewellery collection that launched in April at the Basel watch and jewellery fair this year.
2006 is a very exciting time for Diesel. The vision of the New York catwalk shows combined with a more sophisticated product will now be married with a premium shopping location.
Renzo Rosso CEO of Diesel adds "London for me is a great example on how Diesel is moving forward. The opening of Bond St for us is the next official step into what I call premium of casual wear".
London's hottest crowd joined Renzo Rosso last night to celebrate the opening of Diesel's Flagship Bond Street store. The party began at the store where guests sipped cocktails and listened to music by Jasmine Guinness & Jade Parfitt. Once everyone had taken in the amazing new shopping haven, they boarded Routemaster buses and set off to Victoria House for the afterparty. Upstairs at Victoria House, Renzo hosted a dinner for 40 guests including Heather Graham who had flown in to London especially for the party. The wonderful oak paneled room looked like the dining room from times gone by, with beautiful candelabras, and elegant silverwear, and dozens of candles creating the most intimate of surroundings. Meanwhile, downstairs the party was in full swing, with showgirl performances on a stage that open and closed like a letterbox. Steve Mackey, Its Bigger Than, Pam Hogg and Mylo all had their turn on the decks and the 'almost pitch black' dance room, complete with shiny black dancefloor, was rocking with diehard Diesel fans all night long! Spirits were sky high amongst the wonderfully eclectic mix of guests proving that when Diesel throws a party – everybody wants to come and play!
More than 600 guests attended, including:-
Renzo Rosso, Heather Graham, Jade Parfitt, Jasmine Guinness, Gawain Rainey, Peaches Geldof, Jodie Kidd & Aiden Butler, Giles Deacon, Camilla Al Fayed, Francesca Versace, Jefferson Hack, Mylo, Margo Stilley, Dan MacMillan, Camilla Rutherford, Ryan Adams, Leah Wood, Ben Grimes, Max Irons, Jackie Hamilton-Smith & Sean Pertwee, Olivia Inge, Steve Mackey, Jon Carter, Mollie Dent-Brocklehurst, Edward Tang, Gareth Pugh, Graham Norton, Noelle Reno, Daisy De Villenueve, Jackson Scott, Daisy Lowe, Wildcat Will and Katie McLaughlan.

Where it was:
Diesel Store
130 New Bond Street
London W1
7pm –9pm
Then….
Afterparty at Victoria House
Bloomsbury Square
London WC1
8.30pm -late
What they ate:
Store:
SANDWICHES
Paper-thin cucumber, black pepper mascarpone, maldon salt (v)
Duck egg, anchovy-scented mayonnaise, mustard and cress (v)
Coronation chicken and mango chutney
Gravadlax tartar, honey mustard, lemon zest and dill
SAVOURIES
Soft-centred quail's egg, olive and anchovy cream
Roast tomato and cheddar
Stilton and port-poached pear
SWEETS
Eccles cakes
Mini scones, raspberry jam, clotted cream, fresh raspberry
Valrhona chocolate eclairs

Afterparty
SANDWICHES
Steamed thai asparagus, paper thin parma ham and parmesan cream cheese
Roast baby beetroot carpaccio, goat's cheese, rucola and balsamic reduction
Smoked salmon and horseradish crème fraiche
York ham and mustard mayonnaise, cornichons and black pepper
What they drank:
Store:
Pol roger 'white foil' champagne
Tequila 1800 blanco – served chilled
Tequila 1800 repopsado – served cool
Gran centenario anejo – served at room temperature
Hildon mineral waters
Party:
COCKTAILS
yellow – passione
sputnik vodka, passion fruit puree, mago gomme, guava juice, lemon juice
orange – breeze
sputnik vodka, lychee juice, pink grapefruit juice
white – melon frost
sputnik vodka, galia melon puree, lemon juice, sucre de canne
clear – white cosmopolitan
sputnik vodka, white cranberry juice, cointreau

Party designed by:
N Peters Production

Music
Diesel Store:
Jasmine Guinness
Jade Parfitt

Victoria House:
Mylo DJ
Steve Mackey
Pam Hogg
Its Bigger Than
Names In The News Archive