Dixie Chicks - 'Not Ready To Make Nice'
Thursday 25th May 2006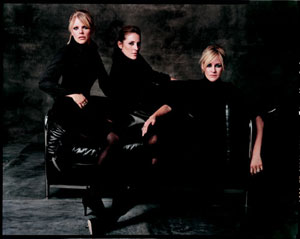 Not Ready To Make Nice
Released June 5th on Sony BMG

Nine-time Grammy Award winning artists The Dixie Chicks are back.
On June 5th they release 'Not Ready To Make Nice', the defiant and politically punchy first single from the eagerly anticipated Rick Rubin produced LP 'Taking The Long Way', released on Sony BMG, June 12th.
Featuring a stunning video by acclaimed Grammy Award-winning director Sophie Mueller, it is equally thought provoking.
Co-written by the Dixie Chicks - Emily Robinson, Natalie Maines and Martie Maguire - the new single focuses on Natalie Maine's outwardly expressed opinions of President Bush while on a UK tour in London's Shepherd's Bush Empire, 2003 - and the reaction that followed.
'Not Ready To Make Nice' begins with the line "Forgive, sounds good, Forget, I'm not sure I could, They say time heals everything, But I'm still waiting" before the blistering chorus "I'm not ready to make nice, I'm not ready to back down, I'm still mad as hell and I don't have time to go round and round and round. It's too late to make it right, I probably wouldn't if I could, 'Cause I'm mad as hell, Can't bring myself to do what it is you think I should."
"The stakes were definitely higher on that song," says Emily Robinson. "We knew it was special because it was so autobiographical, and we had to get it right. Once we had that song done, it freed us up to do the rest of the album without burden."
Martie Maguire says that all three Chicks believe they've grown as a result of the incident. "I learned I was ready to put my career on the line for something I believed in," she says. "Emily and I could have pressured Natalie to apologize, and I was so proud that I had that inner strength - that nothing is as important as standing up for what you believe in."
'Taking The Long Way' is their first release since 2002's 'Home' which sold over 6 million copies, and adds a sweeping, southern California sound to the band's intimacy and heart-on-sleeve attitude.
"Everything felt more personal this time," says Natalie Maines. "I go back to songs we've done in the past and there's just more maturity, depth, intelligence on these. They just feel more grown-up."
The Dixie Chicks will tour the US this summer, with UK dates to be announced shortly.
To watch the video for 'Not Ready To Make Nice' choose your preference below:
Click here to buy 'Dixie Chicks - Taking The Long Way'
Names In The News Archive