Marilyn Monroe Returns!
Friday 2nd June 2006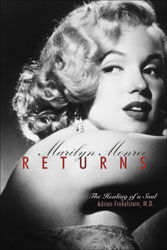 Published: June 2006
In 'Marilyn Monroe Returns: The Healing of a Soul', to be released by Hampton Roads Publishing Company in June 2006 to coincide with what would have been Marilyn Monroe's 80th birthday, board-certified psychiatrist Dr. Adrian Finkelstein presents astonishing evidence that a patient he has treated for seven and a half years, Canadian pop singer Sherrie Lea Laird, is the reincarnation of Marilyn Monroe.
Dr. Finkelstein presents the dramatic results of videotaped past-life regressions in which Sherrie, under hypnosis, provides new details about Marilyn's life, including her involvement with the Kennedy brothers, and describes how Marilyn really died. As a classically trained physician, Dr. Finkelstein backs up the results of the regressions, which are supported bycurrent peer-reviewed medical research on hypnosis, with evidence of biometric similarities between the two women, including facial bone structure, handwriting, voice pattern, and personality quirks. He also examines the phenomenon of reincarnation from a scientific standpoint, presenting the case studies and research that made him a believer.
'Marilyn Monroe Returns' takes readers inside Marilyn's world, revealing for the first time the inner thoughts and feelings of the world's most famous sex symbol. You don't have to be a believer to be fascinated by this detective story of a doctor and patient team in search of Marilyn, and even outright skeptics will be intrigued by the eerie similarities between
Marilyn and Sherrie Lea and the completely new revelations about Marilyn's life—and death.
Adrian Finkelstein, M.D. is a board-certified psychiatrist currently on the teaching staff at Cedars-Sinai Medical Center and in private practice in Malibu, California. He has served as chief of outpatient psychiatry at Mount Sinai Medical Center, and as an assistant professor of psychiatry at the Chicago Medical School, Rush Medical School, and the UCLA School of
Medicine, and received his medical training from the Hadassah Medical School at Hebrew University in Israel. Sherrie Lea Laird, who goes by the stage name Sherrie Lea, is a Canadian pop singer whose dance remix of "No Ordinary Love" topped the charts in Canada and Europe.
Click here to buy 'Marilyn Monroe Returns'
Names In The News Archive