Nelly Furtado - 'Loose'
Thursday 8th June 2006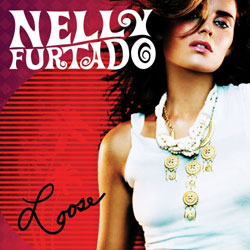 Oh-oh here she comes.
Watch out boys, Nelly Furtado's back.
On June 12th Nelly Furtado releases her hugely anticipated new album 'Loose' through Geffen records.
The beat driven album which Nelly describes as her 'punk hop' album sees a change in styles for the Portuguese/Canadian artist. There's still the Latin rhythms Nelly has become synomonous with but there is now a tougher urban sound. Although Nelly's love affair with hip hop started as a teenager and she has collaborated with artists ranging from Missy Elliot, The Roots and Jurassic 5, this is the first time she has produced an album so heavily influenced by it.

"It's called Loose because I really let myself go on this album," says Nelly. "I haven't tried this before and I'd always been into hip hop but never actually put anything on my album."
Nelly spent last year recording the album – largely – with uber-producer, Timbaland in Miami. Nelly first got together with Timbaland for the remix of 'Turn Off The Light' in 2001.
The lead single from the album is 'Maneater' a song Nelly describes as 'couture pop' It's colourful, innovative pop anthem that is set to be one of the songs of the year. Elsewhere on the album Nelly duets with Timbaland on the steamy 'Promiscous' and explores her multi-cultural roots on the club track 'No Hay Igual'
'Loose' is Nelly's third album, the follow up to 2001's 5 million selling 'Whoa Nelly' and 2003's 2 million selling 'Folklore'
Nelly has already confirmed to play a number of festivals in Europe this summer.
Click here to buy 'Nelly Furtado - Loose'
Names In The News Archive