Paris Hilton - 'Stars Are Blind'
Tuesday 13th June 2006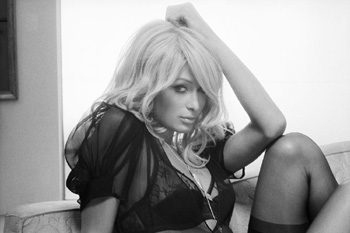 Single 'Stars Are Blind' confirmed for July 31st, album 'Paris Hilton' follows on August 7th
To watch the video for 'Stars Are Blind' choose your preference below:
Paris Hilton's long-awaited debut single and album releases have been confirmed.
The single 'Stars Are Blind' is set for a July 31st release date whilst her eponymous album will follow a week later on Warner Bros. Records.
Combining elements of pop, hip-hop and reggae, 'Paris Hilton' features credits from renowned producers such as Scott Storch (50 Cent, Beyoncé, Missy Elliott), J.R. Rotem (Rihanna, Lil' Kim) and Dr. Luke (Pink, Kelly Clarkson).
Mixing duties were handled by Grammy Award winners Tony Maserati (Black-Eyed Peas, Destiny's Child, Usher) and Serban Ghenea (Justin Timberlake, Britney Spears), whilst co-writers include Kara DioGuardi (Gwen Stefani, Christina Aguilera), Billy Steinberg (Madonna, Kylie Minogue) and Shepherd Solomon (Natalie Imbruglia).
Amongst the tracks vying for inclusion on the collection are 'Screwed' (a possible follow-up single), 'Nothing In This World', 'Jealousy', 'Turn It Up', 'Not Leaving Without You' and 'Turn You On'. The track 'Fightin' Over Me' features guest appearances from Fat Joe and Jadakiss whilst two remarkable covers are also included in the shape of Rod Stewart's 'Do You Think I'm Sexy?' and Blondie's 'Heart Of Glass'.
Paris Hilton spent two days on a beach in Malibu, California, shooting the video for 'Stars Are Blind' with director Chris Applebaum with whom she previously collaborated with for the Carl's Jr. campaign. Applebaum's previous music video credits include Rihanna's 'S.O.S.' and Natasha Bedingfield's 'Unwritten'.
Paris will head to Europe and the UK for a promo visit at the end of June. Further details of this will be announced as they're confirmed.
Names In The News Archive