The Motorettes - 'The Motorettes'
Friday 7th July 2006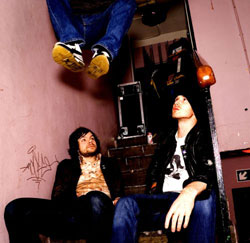 Album: 'The Motorettes' released 31st July 2006
Summer's here and the time is right for dancing in the streets...TO THE SOUND OF THE MOTORETTES!
Boys from the Beach (Tynemouth) , inspired by The Shirelles, The Ramones, The Ronettes, Kim Fowley, Phil Spector, TRASH POP! The Motorettes bring you this summer's soundtrack.
The trio - Robin Howe / guitar & vox , Jed Laidlaw / bass & vox, Jack Laidlaw / drums - signed to Kitchenware Records, the North East's label of choice and eclectic home of luminaries as diverse as Editors and Prefab Sprout - release their eponymous debut album on July 31st, in time for a long hot August of teen angst, drive-ins and brown ale.
The album replete with an array of infectious , hook laden nuggets comes on strong from the off with the band's debut single 'Superheartbeats' before careering down their self made avenue with a potent mix of rock and roll and trash pop asthetic...'You Gotta Look The Parts', the follow up to 'Super Heartbeats' more than continues that ascendancy. Along the way The Motorettes appear to find is frightenly difficult not to write an instantly memorable tune, be it the winsome beauty of 'I Hate To See You Cry' or 'Heart...stop..ing' back to back with the anthemic might of 'Go! Go ! Gadget Girl' and 'I Am Blisters...'
Oh, and yes 'I'm On Fire' is their version (on speed) of the Springsteen classic!
'The Motorettes', the album is available on CD and vinyl at all good stores countrywide from the 31st July.
Meanwhile The Motorettes have confirmed the following live appearances with Kubichek! with whom they release a ltd split 10" ep on July 10th...
July 5th Birmingham Bar Academy
July 6th Nottingham Stealth - Club NME
July 7th Bristol Louisiana - Club Metropolis
July 8th Sheffield Leadmill
July 10th London Barfly
July 11th Leeds Joseph's Well
July 12th Glasgow Barfly
July 13th Newcastle Academy 2
July 14th London Koko - Club NME
July 16th Manchester Night & Day
To watch the video for 'Relax It's The 80s' choose your preference below:
Names In The News Archive