Freema Agyeman Confirmed As New Companion to Doctor Who
Monday 10th July 2006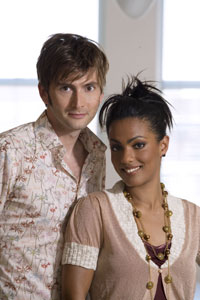 Newcomer Freema Agyeman is confirmed to play Martha Jones, the new companion to Doctor Who, it was announced today by Jane Tranter, BBC Controller of Drama Commissioning.
Doctor Who fans have already met Agyeman as Adeola in episode 12 of the current series of Doctor Who but, as viewers will have seen last Saturday evening, this character suffered a terrible fate at the hands of the Cybermen.
Freema will be playing a brand new character in series three.
Executive producer/writer Russell T Davies says: "The search for a new companion had been underway for some time when I first saw Freema Agyeman, she had come in to audition for the part of Adeola in series two.
"Watching her during filming confirmed what an exciting new talent she was so, under cover of darkness, we called her back in to audition with David for the role of the new companion.
"It was an immediate and sensational combination, and her range, presence and charm blew us all away.
"David and Freema are terrific together, and we're delighted to have chosen her to join the Doctor for more adventures in time and space.
"The first scripts have been written, and Martha's a brilliant addition to the Tardis crew, the perfect foil for the Doctor.
"Martha won't be featured in this year's Christmas special; we've got another surprise in store for that."
Freema Agyeman says: "I've been keeping this secret from my friends for months - it's been driving me mad!
"Auditioning with David in secret down in Cardiff was unbelievable, but I never in my wildest dreams thought I'd actually become the new companion.
"Billie rightfully built up an amazing fan base and she will be missed, but I hope the fans are willing to go on new adventures with me.
"It still hasn't quite sunk in, I'm sure it will slam home first day on set when I'm stood gazing at David Tennant!"
David Tennant adds: "Freema was a joy to work with in episode 12 of the current series. She is not only very talented and very beautiful, she's great fun and I'm delighted she's coming on board the TARDIS full time.
"I can't wait to welcome her into the Who family."
Freema Agyeman is 27 years old and was born and brought up in London.
A new 13-part adventure and Christmas special begins filming in Cardiff in the summer for transmission on BBC ONE.
Doctor Who is a BBC Wales production for BBC ONE.
Names In The News Archive