Pop Star
Monday 10th July 2006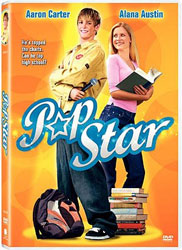 Release Date: 31st July 2006
Certificate: PG RRP: £12.99
Teenage phenomenon AARON CARTER makes his feature film debut as JD McQueen in the delightful new family comedy POP STAR. The DVD, available on 31 July 2006 from Momentum Pictures, stars CARTER (The Princess Diaries, Sabrina the Teenage Witch) as lead singer of the band Downtown, who is given an ultimatum by his mother - 'pass maths or no summer tour!' Directed by RICHARD GABAI (Motocross Kids), this is a flick that no loved up teen can live without!
AARON CARTER is one of the world's most sought after teen talents. Younger brother to Nick Carter of the Backstreet Boys, he's the youngest male solo artist to have four top 40 hits and has sold more than five million albums and one million singles worldwide. He's made notable high profile TV appearances and, with this latest hugely entertaining offering, AARON CARTER is definitely the one to watch.
When JD (CARTER) lets fame go to his head, he finds himself back in school where, on the advice of his manager (70s pop idol DAVID CASSIDY) he befriends the brightest girl in school Jane (ALANA AUSTIN) in the hope that she will help him cheat on his exams. When AUSTIN (No Place Like Home, Route 66) finds out that JD is seeing another girl however, he's left to sink or swim. With his career on the line, he realises that he may have, in fact, fallen in love with her!
To watch the trailer choose your preference below:
Names In The News Archive