Totally Boyband
Thursday 20th July 2006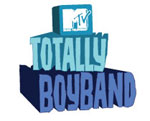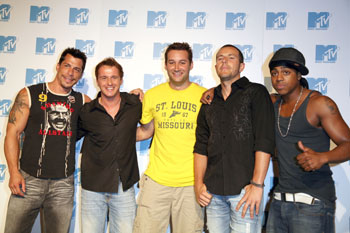 THEY HAD IT… THEY LOST IT… THEY WANT IT BACK!
Stars from
New Kids On The Block, Another Level, 911, Steps & S Club 7
unite to form a pop supergroup for new MTV show
Between them they've sold 87 million albums, banked 40 top ten singles and have scored 11 number ones. They've toured the globe several times over, filling football stadiums and arenas with millions of screaming fans. Now, in a bid to reclaim the success they once had, five ex-popstars from five hugely successful but now defunct pop bands have cast aside old rivalries to form a new band and attempt a spectacular comeback in MTV's 'Totally Boyband'.
'Totally Boyband' follows on from last year's runaway success of 'Totally Scott-Lee', which documented ex-Steps star Lisa Scott-Lee attempt to have a solo top ten hit. 'Totally Boyband' will see the fledgling pop band work together and release a debut single, as part of the series, on October 23rd. The band will consist of Danny Wood (New Kids On The Block), Dane Bowers (Another Level), Jimmy Constable (911), Lee Latchford-Evans (Steps) and Bradley McIntosh (S Club 7).
The lads will be followed every step of the way by the MTV cameras for a compelling, 8-part warts-and-all reality show which will premiere on MTV on September 17th. Under the expert guidance of manager Jonathan Shalit – the man who masterminded the careers of Charlotte Church and Jamelia - the five talented musicians will set about reclaiming their rightful places at the top of the UK charts.
The oldest and most experienced band member is US born Danny Wood from New Kids On The Block. One of the original modern boybands, New Kids achieved phenomenal international success, selling over 50 million albums worldwide and, in their day, out-earning stars like Madonna and Michael Jackson. Assembled in the mid '80's by the impresario Maurice Star who wanted to create a 'white New Edition', the boys all came from a tough, predominantly black district in Boston, and saw the band as a ticket out of there. They went on to create the boyband blueprint that paved the way for bands like Backstreet Boys, N*SYNC and Take That. New Kids split in 1994.
Croydon-born Dane Bowers was thrown into the media spotlight at the tender age of 17, and was the lead singer of the 90's most successful British R'n'B band, Another Level. At the height of the band's fame, Another Level had a string of top 10 hits, were nominated for a Brit and supported Janet Jackson on tour. Dane's personal profile was as great as that of the band, and he regularly hit the headlines for his out-on-the-town antics and his tempestuous relationship with glamour model Jordan. When the band split, Dane achieved solo success, most notably through his duet with Victoria Beckham, 'Out Of My Mind'.
No stranger to success or the perils of it, Jimmy Constable from boyband 911 earnt fame the hard way, by several years of touring and releasing singles without record label backing. 911 finally signed a record deal in 1996, and went on to achieve 9 top 10 singles and 7 million album sales over a 3 year period. But it was to come crashing to an end in 2000 when the band split live on Radio 1 after much of their earnings had been squandered by bad management decisions.
Stepping up as the fourth boyband member is Lee Latchford-Evans, the all-singing and all-dancing member of pop sensations, Steps. Put together by Pete Waterman in 1997 and referred to by their mentor as 'Abba on speed', Steps were only ever intended to be a one-single novelty line-dancing act. But the band went on to achieve enormous success, with 15 consecutive top 10 singles and album sales of 25 million. Steps finally split in 2002.
Completing the new band line up is the youngest member of the team, former S Club 7 star Bradley McIntosh. S Club 7 started life in 1998 as a semi-fictional BBC kids TV series and their debut single knocked Madonna off the top of the charts. The band went on to achieve 4 million album sales, 5 number 1's and over 90 million TV viewers. 2001 saw a sea-change for the band, with hits like 'Don't Stop Moving' gaining crossover appeal, and winning Record Of The Year and a Brit. S Club 7 disbanded in 2003.
'Totally Boyband' will follow this new supergroup pop band as they endeavour to write, perform and gel together in a bid to resurrect their careers. But will Lee step up to the challenge? Will Bradley reach for the stars once again? Or will Dane really go out of his mind? Find out in MTV's Totally Boyband from Sunday September 17th…
Names In The News Archive