Paris Hilton - 'Turn It Up' & Media Player
Wednesday 26th July 2006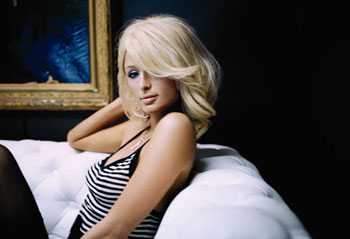 "TURN IT UP"
Produced by Scott Storch
Written by Scott Storch, Penelope Magnet, Jeff Bowden, and Paris Hilton
Last May, Paris went to Miami to meet uber-producer Scott Storch, who is known for his work with 50 Cent, Mario, Beyoncé, Chris Brown, and Christina Aguilera. "Turn It Up" was his first collaboration with Paris and it set a new, rhythmic direction for the rest of the album. Storch melds a bangin' beat to a sexy lyric and infectious melody. The song was the beginning of a killer collaboration that generated more than half the songs on the album.
Click your preference to listen to 'Turn It Up' : WMV / QT
Click here to lauch the Paris Hilton Media Player
Click here to buy 'Paris Hilton - Paris'
Names In The News Archive