Bubble Hits
Wednesday 9th August 2006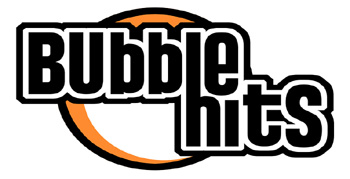 Alicia Douvall arrives at Bubble Hits Launch and (right) with Bubble Hits Presenter Liam McKenna
Photos Copyright: Richard Open
Bubble Hits
Channel 374 on SKY
Bubble Hits, a new commercial-free music channel, is set to air on the BSkyB platform from the 14th August 2006.
The station, owned by two young Irish entrepreneurs James Hyland(23) and Lee Walsh(22), will broadcast hit music 24 hours a day, 7 days a week with no commercial breaks.
Bubble Hits' revenue will be generated by integrated advertising, show sponsorship and viewer interaction via SMS, MMS and web. Sponsored competitions for 'Prizes You Can't Buy' and 'Exclusive Intimate Gigs' will also contribute to the station's income. Sponsorship packages available include on-screen branding, interactive branded text messages to viewers, website presence, on-street promotional activity and short music entertainment updates fronted by young presenters.
Targeting the 16-35 year old market, the free-to-air station will broadcast to over 8 million homes in the UK and Republic of Ireland. According to forecasts, Bubble Hits first month's projected share is 0.02% of 31,000,000 adults watching Digital Satellite. It is anticipated that there will be an average of 77,000,000 adult impacts on the channel per month. (Research carried out by European Television Guild)
The music TV station is the brainchild of James Hyland (23) and Lee Walsh (22). The dynamic duo recently launched state-of-the-art commercial studios for their company Pro Audio Images – a production house for TV and radio commercials.
Lee Walsh, Director of Bubble Hits said "The establishment of Bubble Hits sees a return to the essence of music channels – to play music. Bubble Hits' unique selling point is that it has no commercial breaks, a major disruption to other channels viewership figures. In addition to more music and more entertainment, the channel reduces the risk of 'the flick factor'. Bubble Hits has already attracted interest from cable stations worldwide, for its commercial-free format and we hope to grow the station into an internationally recognisable brand. The format really is the future of television."
Joining Hyland and Walsh at Bubble Hits is Michael Brett. Brett joins as Station Manager and Music Director. Hailing from Kilkenny, Brett was Station Manager at Cork's 96&103FM (Part of the UTV plc Media Group) for 6 years. He has been heavily involved in the music industry since joining Radio Kilkenny as a presenter in 1990.
Chris Parker, Liam McKenna and Glenda Gilson Presenters of Bubble Hits
Chris Parker, Liam McKenna and Glenda Gilson are the faces of the new commercial-free music channel set to air on Sky Digital channel 374 on August 14th. The trio will front "The Juice," entertainment features with exclusive interviews that will run throughout the day.
Bubble Hits will be beamed into over 8 million homes and watched by over 31 million people in Ireland and the UK on the Sky Digital platform. Owned by two young Irish entrepreneurs, James Hyland (23) and Lee Walsh (22), Bubble Hits will broadcast hit music 24 hours a day, 7 days a week with no commercial breaks.
Chris Parker, most well-renowned for his role as Spencer Moon in Eastenders, realised he enjoyed being himself in front of the camera after a stint on "Strictly Come Dancing". With this in mind he began presenting on shows such as "MTV News", "CBBC", "CD:UK", "Dead Famous Live" in LA and as the entertainment correspondent on popular daytime show "This Morning".
Chris will co-host the entertainment features on Bubble Hits with co-presenters, Liam McKenna and Glenda Gilson. Liam and Glenda both landed the role following a nationwide search for hot young presenters. These features will comprise of exclusive backstage interviews with all the top acts performing in Ireland and the UK as well as interviews with the fans at the gigs and festivals. This exciting format will allow viewers to see what really goes on behind the scenes.
The station will focus primarily on Top 40 acts and will feature shows such as Bubble Cuddle, Pop It Or Drop It, Get Your Hits Out and "The Juice." The lack of commercial breaks on the music channel means there will never be a reason to flick off from Bubble Hits.
Chris Parker said, "Bubble Hits really is so exciting. It's a really fresh, innovative idea and the lack of ads really encourages viewers to keep watching. Our entertainment features are going to be quite distinctive and a lot of fun. We are going to stay away from the usual boring questions and go that bit further. I can't wait to get started."
Names In The News Archive