Blade Run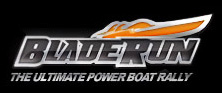 16th-20th August 2006
London Plays Hosts to 'The Ultimate James Bond Adventure'
"It reignites the spirit of adventure of spectacular races like the
London - Monte Carlo" - Ray Bulman, The Telegraph
Movie Stars, Millionaire Moguls, Celebrity Babes and a band of speed loving Powerboaters take part in the most exhilarating, high octane event in London's summer diary.
This thrilling 4-day cross-channel rally sees 20,000 horse-power of glistening, roaring power-boats thundering down the Thames in a visual spectacle that will have spectators' hearts racing. The four day challenge navigates hundreds of miles of open water from the majesty of Tower Bridge to Boulogne, Dieppe and Deauville before the final leg of this unforgettable experience ends up in Poole on August 19th. Throughout the rally participants will enjoy will be glamorous nightly parties in locations varying from Casinos to private Chateaux and five star hotels.
Exclusively invited guests include many well known characters, from TV celebrities to sporting personalities and big names in the entertainment industry. The event will kick off with an exclusive send off party in the Henry Moore Gallery opposite the Royal Albert Hall on the night of Wednesday 16th August, where a number of powerboats and a splattering of supercars will be seen on display. At 10.30 on the Thursday 17th of August, from the majesty of the River Thames, an eclectic mix of awesome power boats of all shapes and sizes begin the 2006 Blade Run.
Launched in 2005 with the support of Gumball 3000, the Blade Run has more than tripled in size this year and is set to be a permanent fixture on the social calendar.
"This rally really was a water based challenge containing all the
Gumball traits of thrills, speed, eccentricity and endurance"
- Maximillion Cooper, founder of the Gumball Rally
Names In The News Archive