Treasured: My Favourite Sight
Tuesday 15th August 2006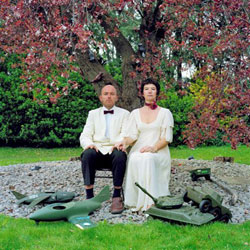 Wayne Hemingway, designer: 'After 20 odd years of marriage I would miss my lovely wife Geraldine more than anything and I would miss my kids and their toys and our garden.'
Celebrities share their most treasured sights with the public in a photographic exhibition for charity
Celebrities' photographs of their kids, their favourite places and even themselves, are to be put on public display outside the British Airways London Eye this September. They were asked to pick one of the sights they would miss the most if they were to lose their eye sight. From celebrity chef Gordon Ramsay's favourite view of London, a family snap of ex Formula One racer Eddie Irvine's daughter, to Joanna Lumley's favourite place for a countryside walk, Treasured: My Favourite Sight, organised by the UK charity Sightsavers International, will give a highly personal insight into the lives of some well known personalities. There will be pictures from the likes of Wayne Hemingway, Annie Lennox, Debra Winger, Mary McCartney Donald, Frederick Forsyth, John Humphrys, Carol Smillie plus many many more.
Their pictures, of the sights that they would miss the most if they were to go blind, will be exhibited alongside pictures of favourite sights taken by children in Bangladesh who have just had their sight restored through cataract surgery. Most avoidable blindness occurs in the developing world and three quarters of it can be easily and cheaply prevented or cured. Sightsavers is staging this unique exhibition, with support from Mellon Financial Corporation, in order to raise awareness of the scale of avoidable blindness worldwide.
Treasured: My Favourite Sight, runs from Friday 1 until Saturday 30 September 2006, along the London Eye landscape. Entrance to the exhibition is free.
Joanna Lumley travelled to Bangladesh with Sightsavers where she spent time with children who were having sight restoring operations. Joanna removed the bandages of one little boy, Arif. She said: 'It is a moment I will never forget. The air of excitement was incredible as I carefully peeled off the bandage, exposing Arif's eye, and for the first time ever he could perceive not just blurred light, but people, faces and objects. The operation was a complete success and uncontrollable tears of joy streamed down my face.' The exhibition includes pictures taken by Arif and other children in Bangladesh of their favourite sights.
Names In The News Archive