Alder Hey Imagine Appeal's Bike Unite Launched by Simon 0'Brien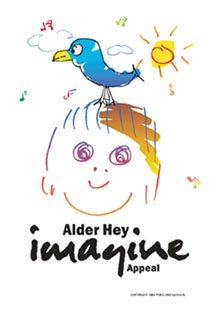 Actor and presenter Simon O'Brien who shot to fame in Liverpool's legendary TV soap Brookside is backing Alder Hey Children's Hospital in the first ever Bike Unite for Children on 28th June 2009 and he wants the North-West to "Get on your bike" for children! Simon is currently presenting 'To Buy Or Not To Buy' on BBC 1 and Saturday Breakfast on CityTalk Radio right here in the Northwest.
Bike Unite for Children is organised by Alder Hey Imagine Appeal who has joined forces with Manchester Children's Hospital for the inaugural event which takes place on 28th June 2009. Cyclists will set off in Manchester and travel 37 miles along the Trans-Pennine Way to Calderstones Park in Liverpool.

Simon O'Brien who is well known for his love of cycling explained, 'I decided to use a bike to get around because of my concerns about the future of the Planet and it seems perfectly natural to me for Alder Hey and Manchester Children's Hospital holding a bike ride to raise money because these fantastic hospitals help the next generation have the best possible future and what healthier way to help improve children's health than a great day out in the saddle. I also think it is fortunate we are starting in Manchester and heading to Liverpool as this will allow us Scousers to, once more, show our illustrious Mancunian neighbours the way.'

Alder Hey Imagine Appeal was launched in 2005 by Yoko Ono and currently raises funds to support the pioneering work of Alder Hey Children's Hospital - Europe's busiest. Around 250,000 young patients annually receive treatment at the hospital for everything from broken bones to more complex conditions such as cancer and congenital heart disease. The Appeal aims to raise around £3 million every year to improve the quality of life for children in hospital by enhancing their environment to providing facilities for patients and their families. In addition, Imagine funds the most advanced medical equipment and research into those conditions our children suffer from today, in the hope that they won't in the future.
Names In The News Archive