Paris Hilton - 'Paris'

Tuesday 29th August 2006
By Philip Ellwood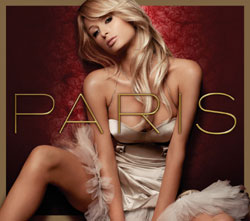 Paris Hilton; model, actress, reality TV star, heiress, singer? Well after years of threatening to unleash an album onto the music buying public Paris has finally gone and done it. With the majority of critics sharpening their knives already for Ms Hilton's debut you wonder why on earth she is putting herself through it. Paris has been saying in interviews recently that music is what she has always wanted to do and is an area of her career that she intends to focus on and succeed in. 'Paris' is a mixture of different styles and comprises of 11 songs - impressively mostly co-written by Hilton herself. Is it any good? Well actually yes it is and it's better than it has any right to be.
By now Hilton's debut single has managed to stun most critics - some have even admitted that it's actually a great pop song. With it's reggae-lite vibe 'Stars Are Blind' has been a top 5 hit in the UK and hasn't done too badly in the US either. Whilst the single doesn't showcase Hilton as the strongest vocalist, it does highlight her ability to pick a hit. 'Paris' sees Hilton covering most musical bases; regaae, pop, R&B, hip-hop, dance and rock. It is perhaps for this reason that the album succeeds. Album opener 'Turn It Up' is a sparse urban tinged club track, 'Nothing In This World' is a made for radio rock-lite anthem and 'Turn You On' is shameless crunk fused dance joint.
The album only threatens to stall two times. First on 'Fightin' Over Me' featuring Fat Joe and Jadakiss where Hilton merely guest stars on her own song and album close 'Do Ya Think I'm Sexy' which is a cover of the Rod Stewart classic. On first listen it's difficult to decide one way or the other about the track. On closer listen I can confidently say it is a moment of Paris genius. The song is the ideal tongue-in-cheek number that we should expect from the full-time partygirl. Her breathy, sexy vocals work with the cheesiness of the song against all the odds.
Elsewhere on the album Paris tries a ballad, the Cyndi Lauper crossed with Gwen Stefani track 'Heartbeat', samples 'Grease' on the poptastic 'I Want You' and has a little pop at an ex-friend on 'Jealousy' (no prizes for guessing who that track's about). The album highlight without a doubt is the much hyped potential single 'Screwed'. The album includes the original rock version of the track as opposed to the dance remix that has been doing the rounds for months. 'Screwed' is a catchy pop/rock number and is perfect for radio glory.
All in all Paris' debut is at times surprising, often gloriously shameless and most importantly a work of pop genius. If the critics can give the album a chance and get past the fact that it is Paris then the album may actually succeed. Whatever you're view of Paris no one can deny that she has delivered the goods and can be proud of what she has accomplished with her debut album. No one expected her to deliver a decent song let alone a great album. The girl's done good.
Celebrities Worldwide Rating: 9 out of 10
Click here to buy 'Paris Hilton - Paris'
Reviews Archive