Black Book

Friday 19th January 2007
By Lucy Farmer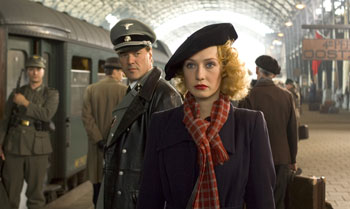 This epic film was twenty years in the making, and the phenomenal end result is proof of the time and talent devoted to this production. Directed by Paul Verhoeven (Total Recall, Basic Instinct) the plot follows the experiences of the fiesty Jewish girl Rachel Steinn (Carice Van Houten) during WWII in Holland.
Rachel's family are gunned down in a Nazi trap in the first of several brutal scenes depicting attacks on civilians that will leave you wincing behind your popcorn box. The most shocking realisation is that the scenes are based on a true story and events such as these really did happen.
Rachel joins the Resistance in The Hague and is given the pseudonym Ellis de Vries. She is soon employed to seduce the leader of the Gestapo, Muntze, and infiltrate the German defences. Thus begins a thrilling ride of deceit, double-crossing and death in a world where humanity has gone mad. This film is endlessly thought-provoking as you question, can humans really treat each other with such brutality?
Carice Van Houten is faultless in her portrayal of Ellis de Vries. Forced to sing Nazi songs and drink merrily with the man who murdered her family, her bravery is almost painful to watch. All alone in a web of deceit she must choose carefully who to trust. However, she is faced with constant double-crossing causing her to lose those closest to her and throwing her own life into jeopardy.
The film is subtitled as the majority of the script is in Dutch. This may deter you from watching the film, but far from being a distraction it enhances the authenticity and is almost superfluous to understanding the plot alongside the fantastic acting. It is also a lengthy offering at 2 hours and 26 minutes, however, the excellent cinematography and constant surprises and revelations ensure you are glued to your seat throughout. This is a truly epic film and a flawless production. It would be a mistake to miss it.
Celebrities Worldwide Rating: 9 out of 10
Released Nationwide Friday 19th January 2007
Reviews Archive